This is OSU's fourth consecutive victory at the IFA Suzuka Solar Race.
CHANGZHOU, China, August 3, 2015 -- Trina Solar Limited (NYSE: TSL) ("Trina Solar" or the "Company"), a global leader in photovoltaic ("PV") modules, solutions, and services, is pleased to announce that the Osaka Sangyo University ("OSU") Solar Car Team, equipped with Trina Solar's newly developed Interdigitated Back Contact (IBC) cells and modules for OSU's Solar Car, the "OSU-Model-S", has won the "2015 FIA ALTERNATIVE ENERGIES CUP Solar Car Race" held at the Suzuki International Racing Circuit (the "IFA Suzuka Solar Race"). This is OSU's fourth consecutive victory at the IFA Suzuka Solar Race. The "OSU-Module-S" developed by OSU's Solar Car Team was 100% powered by solar cells developed by the State Key Laboratory of PV Science and Technology of Trina Solar.

The IFA Suzuka Solar Race is the largest international solar car race taking place in Japan. First held in 1992, this year's competition marked its 24th year. Fueled solely by 565 of Trina Solar's IBC cells and modules, which demonstrated efficiencies up to 24.4% in laboratory tests and 22~23% in pilot industrial production, the OSU-Model-S was classified into "Dream Class", the top ranked category of the five-hour race. The OSU-Model-S won its category by 66 laps, taking a clear victory in the race, three laps ahead of the following car.
"Trina Solar has been a tremendous partner and the high efficiency of Trina Solar's cells was the key to our victory," said Mr. Masayuki Murakami, Project Leader of the OSU Solar Car Project. "Through utilizing Trina's IBC Cells, our solar car was highly efficient. Thanks to an extremely light weight design, efficient power electronics and Trina's solar cells, our solar car was able to maintain an average speed of 78.5km throughout the 5-hour race. I am very thankful to the team led by Dr. Pierre Verlinden, Chief Scientist of Trina Solar. With the team's world-class technology and superior knowledge of solar power applications, we were able to demonstrate how effective solar powered transportation can be. We look forward to collaborating with Trina Solar in the future in more advanced renewable solar projects given our shared vision of building a greener and brighter world."
Zhiguo Zhu, COO of Trina Solar Limited and President of Trina Solar Module Business Unit, commented, "Congratulations to the OSU team on winning the four championships. We are thrilled to have been able to contribute to the OSU team's success, and we are delighted in the high level of performance that our IBC cells and modules displayed during the race. I believe this successful cooperation not only further solidified our position as a technology leader in the solar sector, but also demonstrated our ability to continuously pursue excellence. As we continue to broaden our outreach from solar power generation to technology and research applications, I believe this cooperation with the OSU team will pave the way for future successes."
About Trina Solar Limited
Trina Solar Limited (NYSE: TSL) is a global leader in photovoltaic modules, solutions and services. Founded in 1997 as a PV system integrator, Trina Solar today drives smart energy together with installers, distributors, utilities and developers worldwide. The company's industry-shaping position is based on innovation excellence, superior product quality, vertically integrated capabilities and environmental stewardship. For more information, please visit www.trinasolar.com.
Featured Product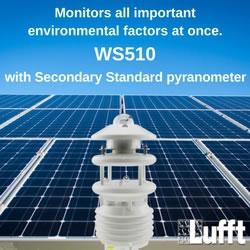 Professional weather sensors form the heart of large solar plants supporting their operation and performance. Lufft was the first manufacturer to combine several sensors in one housing, bringing the largest multiparameter weather sensor family with 19 members into being. Many of them are well-suited for solar site assessment and continuous monitoring. The most commonly used one is the WS600 delivering data on temperature, air pressure, wind, relative humidity and precipitation. Through its open protocol, it can easily be attached to radiation sensors e.g. from Kipp&Zonen. Other models have an integrated Silicon, Second Class or Secondary Standard radiation sensor.