More than 4,300 solar streetlights illuminate 73km of the superhighway
RIO DE JANEIRO---Kyocera Corporation and Kyocera Solar, Inc. announced today that Kyocera is completing Brazils largest highway solar-lighting project on the Arco Metropolitano do Rio de Janeiro, a highway project connecting the five main highways crossing Rio de Janeiro. Slightly more than half of the 145-kilometer highway will be lit at night by stand-alone solar streetlights powered by Kyocera solar modules, installed by Soter over the last two years with funding from the Rio de Janeiro State Government.

This enormous transportation initiative is helping to streamline transit logistics, improve traffic and reduce importing costs throughout the region — especially for industries such as petrochemicals, which export from the Port of Itaguaí. Improved transportation is expected to stimulate economic growth in this rural region, which was not easily accessible in the past.
The 3.2MW (DC) solar lighting project encompasses more than 4,300 solar-powered, free-standing streetlights, which are expected to produce 2.8GWh of solar energy per year. Thats equivalent to the amount of power used by approximately 1,527 average homes and equal to the carbon dioxide emissions that 1,583 acres of forest would offset. According to a World Energy Outlook Report from 2013, almost 45% of Brazils primary energy demand is met by renewable energy, making Brazils energy sector one of the least carbon-intensive in the world.
"Kyocera continues to be dedicated to solar solutions that are helpful in rural areas," said Sergio Beninca, President of Kyocera Solar do Brasil. "This solar lighting project helps contribute by not overburdening the energy grid system that many lower-income households in the area depend on."
"From preliminary reports, the Brazilian government expects Arco Metropolitano to provide 16,000 jobs to the region and generate US$90 million in tax revenue from sales tax generated at the municipal and federal levels, while bringing together parts of the country that were not easily accessible before," Beninca continued. "Utilizing solar power allows the Brazilian government to deliver reliable light on the highway in areas without a traditional electricity grid. Were honored to deliver a simple, energy-efficient solution to help advance this very important project for Brazil."
The Kyocera Solar Streetlight Kit, available now, includes: one 150W LED lamp, three solar modules (Kyocera KD250), four 240Ah/ 12Vcc batteries, one controller (TS-MPPT-45/ 48Vcc), one photocell, and one pole with mounting structures.
About KYOCERA
Kyocera is a world leader in solar photovoltaic modules and systems, with a 40-year history of innovation in solar technology and multiple world records in multicrystalline silicon cell efficiency. The company serves thousands of residential and industrial customers in both developed and developing regions, with more than 6 gigawatts of solar collection equipment installed since 1975.
Featured Product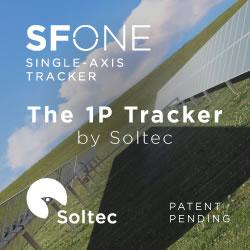 SFOne is the 1P single-axis tracker by Soltec. This tracker combines the mechanical simplicity with the extraordinary expertise of Soltec for more than 18 years. Specially designed for larger 72 an 78 cell modules, this tracker is self-powered thanks to its dedicated module, which results into a lower cost-operational power supply. The SFOne has a 5% less piles than standard competitor, what reduces a 75% the labor time.