Inspectors are a key component in ensuring quality renewable energy installations for customers.
Clifton Park, NY (August 5, 2015) -

The North American Board of Certified Energy Practitioners, Inc. (NABCEP) has released two online surveys to collect stakeholder input on proposed PV System Inspector and Solar Heating System Inspector credentials. The credentials are intended for individuals performing system inspections for authorities having jurisdiction (AHJ), utilities, incentive programs, investors, or others responsible for photovoltaic and solar hot water system quality assurance and code compliance.
Inspectors are a key component in ensuring quality renewable energy installations for customers. The new credentials are meant to encourage those who are responsible for inspecting systems to increase their knowledge and learn what to look for when performing their job as it relates to solar technologies. Companies that have been performing comprehensive PV system inspections nationwide have found that even after local permitting and inspection, more than 25% of systems being installed today have major or critical issues, and only a quarter are trouble-free.
NABCEP convened committees of subject matter experts to develop draft Job Task Analyses (JTA) for both PV System Inspectors and Solar Heating System Inspectors. The JTAs define the tasks, knowledge, skills and abilities associated with performing inspections of solar electric and solar hot water systems. JTAs are the foundation for any personnel credential. The system inspector JTAs will guide training activities across the country and serve as the blueprint for a NABCEP examination.
The online surveys are designed to obtain broad stakeholder input in order to validate the draft JTAs. During the surveys, participants are asked to rate the tasks, knowledge, skills and abilities contained in the JTA according to their importance, criticality, and frequency. Participation in this survey will help NABCEP ensure that the examinations developed accurately measure the knowledge critical for performing PV and solar heating system inspections.
The surveys are open until August 31, 2015. To complete the survey please visit: https://www.research.net/r/PVSI for the Photovoltaic System Inspector survey and https://www.research.net/r/SHSI for the Solar Heating System Inspector survey.
About NABCEP
The North American Board of Certified Energy Practitioners (NABCEP) is the most respected, well-established and widely recognized national certification organization for professionals in the field of renewable energy. NABCEP offers entry level knowledge assessment, professional certification, and company accreditation programs to renewable energy professionals throughout North America. NABCEP's mission is to develop and implement quality credentialing and certification programs for practitioners by supporting and working closely with professionals and stakeholders in the renewable energy and energy efficiency industries.
Featured Product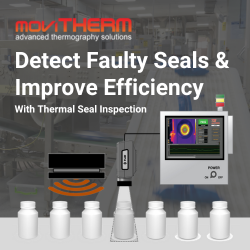 MoviTHERM's Thermal Seal Inspection (TSI) solution provides precise and reliable detection of defects in a variety of packaging types, including pouches, bags, blister packs, bottle caps, and more. By detecting defects in your packages, the TSI solution helps increase efficiency in your production line and ensures top-quality packaging is delivered to your customers every time. With state-of-the-art technology and an experienced team, MoviTHERM is dedicated to delivering accurate inspection solutions and peace of mind to its clients. Contact MoviTHERM today to learn more about their thermal seal inspection solution.