Secretary Moniz, Utility Workers, Electrical Workers, Steelworkers Announce Partnership Following Roundtable in Dearborn, MI
WASHINGTON (August 6, 2015) - Following a roundtable event in Dearborn, MI today, Department of Energy Secretary Ernest Moniz and three major labor groups announced a DOE-Labor Working Group that will help unions maximize job creation as states develop their compliance plans under President Obamas Clean Power Plan announced earlier this week. The partnership will begin with DOE, the Utility Workers Union of America, the International Brotherhood of Electrical Workers, and the United Steelworkers.

The partnership will provide DOEs technical expertise and assistance to these unions and others that wish to participate on how different energy technologies and policies can best preserve and create jobs in the energy sector. Many of the options available to states in designing their State Implementation Plans are major job creators for Americas workers such as retrofitting coal plants to capture carbon, installing combined heat and power units in manufacturing plants, updating energy infrastructure, or installing renewable energy and energy efficiency equipment.
"The flexible nature of the Clean Power Plan means that states have many options to cut their pollution, help ensure reliability, and keep Americas workers on the job building our energy future," said Secretary Moniz. "This partnership will enable the Energy Department and our labor unions to work with the states on designing plans that maximize job creation."
"It's good to know the administration has taken our concerns about the effects of the Clean Power Plan on good union jobs seriously. We appreciate the efforts of Secretary Moniz to champion our issues. Working together with the DOE to preserve middle class jobs and protect grid reliability will help ensure our communities are safe, secure and sustainable," said D. Michael Langford, president, Utility Workers Union of America.
"The IBEW is pleased to work with DOE to educate the states on what is possible to be able to meet the clean power plan goals while assuring reliability and our members' jobs," said Jim Hunter, Director, Utility Department, International Brotherhood of Electrical Workers.
"In the upcoming year, the USW will work hard to help design well-balanced state implementation plans that maintain and create family-sustaining jobs in the energy and manufacturing sectors," said United Steelworkers International President Leo W. Gerard. "We are pleased to partner with the Department of Energy and others in labor to highlight technologies that will ensure sustainability not only for our environment, but for workers and communities as well."
The DOE-Labor Working Group will continue the work of DOEs Jobs Strategy Council, an initiative announced in January that is focused on accelerating job growth in American-made energy while achieving the presidents climate goals.
The Quadrennial Energy Review noted that the energy sector is expected to produce 1.5 million new jobs over the next 15 years.
Featured Product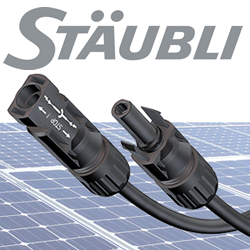 ​Stäubli Electrical Connectors are used on more than 300 GW, over 50% of the PV capacity worldwide. The MC4 family of UL and TUV listed products include connectors, in-line fuses, branch connectors, cable assembly and more.