Silver graphite brush and stable holder provide reliable low resistance path to ground
Morgan Advanced Materials Electrical Carbon business announces the availability of its grounding brush holders, designed for stability and reliable dissipation of current to prolong bearing life. The grounding brush holders have a contact drop of less than 1 volt due to their high quality silver-graphite brush.

DC motors applied on static drive systems and AC motors on adjustable-speed drives can experience voltage spikes that can cause current to flow through the motor shaft bearings. Over time, these currents cause pitting of the bearings and eventually bearing failure.
Introducing grounding brushes to the motor to provide a low resistance path to ground, in parallel with the bearings, can eliminate this issue, without the difficulty of insulating the bearings. Most of the current can be directed through the grounding brush, greatly extending bearing life.
Shaft grounding brushes by Morgan are constructed from silver-graphite, providing extremely low resistance. They are housed in a specially-designed holder that fully supports the brush on both sides, giving it greater stability than that provided by other products on the market. This inexpensive yet reliable device has the potential to greatly lengthen bearing service life in a variety of applications.
Morgans grounding brushes and brush holders are available for purchase from Morgan Advanced Materials and its distribution partners.
Ends
For further information, please contact:
Kristin Nugent, McNeil, Gray & Rice Inc. 617 367 0100 ext. 148
kristin.nugent@mgr1.com
Scott Bentley, Morgan Advanced Materials
scott.bentley@morganplc.com
Tel +44 (0)1299 827000
About our Electrical Carbon business
The Electrical Carbon business of Morgan Advanced Materials produces carbon and metalized-carbon current collector strips and assemblies for linear electrical transfer.
Our electrical carbon products are produced from an extensive portfolio of materials including carbon, graphite, silicon carbide and other ceramics. The range includes pantograph strips, third rail shoes, trolley bus inserts and industrial linear collectors for applications from 60V to 25kV.
The Electrical Carbon business is able to draw on longstanding applications engineering experience and materials expertise to engineer products that meet demanding customer challenges and deliver long term high-performance.
________________________________________
About Morgan Advanced Materials
Morgan Advanced Materials is a global materials engineering company which designs and manufactures a wide range of high specification products with extraordinary properties, across multiple sectors and geographies.
From an extensive range of advanced materials we produce components, assemblies and systems that deliver significantly enhanced performance for our customers products and processes. Our engineered solutions are produced to very high tolerances and many are designed for use in extreme environments.
The Company thrives on breakthrough innovation. Our materials scientists and applications engineers work in close collaboration with customers to create outstanding, highly differentiated products that perform more efficiently, more reliably and for longer.
Electrical Transfer is a business of Morgan Advanced Materials, which has more than 9,000 employees across 50 countries serving specialist markets in the energy, transport, healthcare, electronics, security and defence, petrochemical and industrial sectors. Morgan Advanced Materials (MGAM) is listed on the London Stock Exchange in the engineering sector.
For more information on Morgan Advanced Materials visit www.morganadvancedmaterials.com.
Featured Product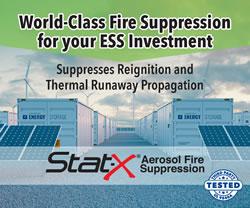 Stat-X® condensed aerosol fire suppression is a solution for energy storage systems (ESS) and battery energy storage systems (BESS) applications. Our Stat-X condensed aerosol fire extinguishing product was tested for efficacy in suppressing li-ion battery fires. It was found that the product successfully extinguished single and double cell battery fires. This testing was conducted in parallel with a large battery fire testing program on behalf of a large energy storage company.