Company to Install Approximately 1.5-Megawatt Solar Power System for Prominent Agricultural Organization
SANTA BARBARA, CA-( August 05, 2015) - Solar3D, Inc. (SLTD), a leading provider of solar power solutions and the developer of a proprietary high efficiency solar cell, announced today that its operating division SUNworks has secured a $3.52 million contract to design and install a photovoltaic system for Rivermaid Trading Company.

For over 80 years, Lodi-based Rivermaid Trading Company has provided expertise in agriculture, operations, consumer marketing, logistics and more. Led by CEO Patrick Arichibeque, the organization is responsible for 50% of California's pear volume alone, and is also a top five shipper in the California cherry industry. Rivermaid is committed to sustainability, with a long-term approach to caring for the land, environment resources and community within their region.
SUNworks will be tasked with the design and installation of a 1.477MW SunPower roof mount solar system. The system is designed to achieve cost savings of approximately $11,800,000 over the next 25 years.
"Our expertise and track record in the agriculture industry has continued to drive organic referrals our way," said Abe Emard, CEO of SUNworks. "Rivermaid is an ideal customer in that their vision for a sustainable future aligns with our own. We are pleased to enter into an agreement with this prominent organization to implement a solar program that drives down cost while making the community a cleaner place."
"We are thrilled to be working with Rivermaid, and with Patrick Arichibeque and his team," said Jim Nelson, CEO of Solar3D. "As our leadership expands due to consolidation, so do the capabilities and services we are able to offer. Quality companies see this and we are creating great relationships. We believe this growth-by-acquisition strategy will continue to grow the size of the projects we work on, resulting in increased revenue and overall shareholder value."
About Solar3D, Inc.
Solar3D, a leading provider of solar power solutions, is focused on the design, installation and management of solar power systems for commercial, agricultural and residential customers. Through its wholly owned subsidiaries, Solar3D is one of the fastest growing solar systems providers in California delivering 2.5 kilowatt to multi-megawatt commercial systems. Solar3D's technology division is developing a patent-pending 3-dimensional solar cell technology to maximize the conversion of sunlight into electricity. The Solar3D Cell collects sunlight from a wide angle and lets light bounce around in 3-dimensional microstructures on the solar cell surface. The Company's mission is to further the widespread adoption of solar power by deploying affordable, state-of-the-art systems and developing breakthrough new solar technologies.
To learn more about Solar3D, visit our website at http://www.Solar3D.com.
About SUNworks
SUNworks is a commercial and residential wholly owned subsidiary of Solar3D, Inc. (SLTD), a leading solar power company and the developer of a proprietary, high efficiency solar cell. SUNworks is focused on the design, installation and management of solar systems for agricultural, commercial, and residential customers. The Company has delivered hundreds of 2.5 kilowatt to 1-megawatt commercial systems and has the capability to deliver systems as large as 25 megawatts. SUNworks serves commercial, agricultural and residential customers throughout California and Nevada.
Featured Product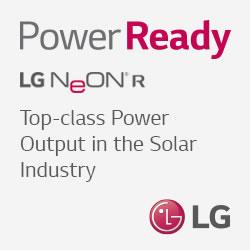 The NeON R module features "Back Contact" cell technology delivering an entirely black panel that is aesthetically pleasing and energy efficient. The cell's seamless, surface blends perfectly into nearly all rooftop designs while the module's electrodes are positioned on the rear of the cell. Using LG's N-type cell structure, the panels produce 365W of energy, up to 7.3kWp, compared to 5.8kWp of the p-type cell. The module's new design minimizes LID, thereby delivering a longer lifespan and increased energy output.