The EU PVSEC Parallel Events cover topics in Photovoltaics along the most recent technology, market and business trends and address decision makers from industry, research, finance and politics.
Munich, August 11th, 2015 - The 31st European Photovoltaic Solar Energy Conference and Exhibition (EU PVSEC 2015) will take place from 14 - 18 September 2015 at the Congress Centre (CCH) Hamburg, Germany. With more than 1,300 presentations from 6,500 authors and co-authors from 86 countries covering the entire PV value chain, the EU PVSEC 2015 takes up the challenge and outlines the opportunities.

The Conference Programme is complemented with Parallel Events that present around 100 additional contributions. They are jointly organized with major international organisations like EC-JRC, ENEA, ETA-Florence and the EU PV Technology Platform as well as IRENA, and offer a deep insight into specific topics along the most recent technology, market and business trends.
A short outline of Parallel Events topics:
• Competitiveness, soft costs and new business cases for PV
• Reaching out for opportunities in BIPV - market, policies and BIPV development drivers
• Reaching out for opportunities in BIPV - technology and industry developments
• For solar PV, the future is here today - but where will future cost reductions come from?
• PHOTOVOLTAICS | FORMS | LANDSCAPES: Beauty and power of designed Photovoltaics
• Novel solutions for a high PV penetration in EU electrical networks with lower LCOE
The EU PVSEC serves as a platform where PV professionals meet for knowledge exchange on the latest scientific and technical results, developments in policies and industry and deployment of this truly global energy technology. Being the largest international Conference for Photovoltaic research, technologies and applications, the EU PVSEC together with the EU PVSEC Industry Exhibition offers multiple networking opportunities with stakeholders from the entire PV sector and from related industries.
For more information please visit: www.photovoltaic-conference.com
Featured Product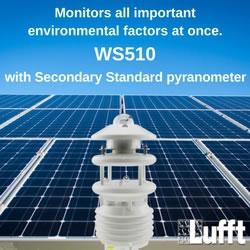 Professional weather sensors form the heart of large solar plants supporting their operation and performance. Lufft was the first manufacturer to combine several sensors in one housing, bringing the largest multiparameter weather sensor family with 19 members into being. Many of them are well-suited for solar site assessment and continuous monitoring. The most commonly used one is the WS600 delivering data on temperature, air pressure, wind, relative humidity and precipitation. Through its open protocol, it can easily be attached to radiation sensors e.g. from Kipp&Zonen. Other models have an integrated Silicon, Second Class or Secondary Standard radiation sensor.