California Company Ranks #16 Among Top 50 Residential Solar Contractors
Van Nuys, CA August 11, 2015

Titan Solar Construction has ranked among the top solar power developer, engineer, and construction companies in North America for several categories, according to one of the nations leading solar energy publications, Solar Power World. Honoring the best in the industry, this extensive list of the top 500 Solar Contractors has been released in the August 2015 issue and features the most successful solar power installation and development companies across North America that provide residential, commercial, and off-grid services.
Titan Solar Construction has the distinction of ranking number 92 among the top 500 solar contractors with 18 MW installed. In the Residential category, Titan Solar ranked 16 among the top 50 solar contractors while achieving to be placed at number 46 in the Top 50 EPC category. EPCs are companies that do everything from designing, building, and maintaining solar projects. Thats not all; Titan Solar also ranked number 27 in the Top 50 California contractors' category in addition to placing on the Top 25 Hot Water (solar water heater) companies.
Titan Solars huge success is fueled by the shared commitment to quality and value from the companys leadership and staff. Today, Titan Solar continues its fast growth and expansion, guided by the organizations founders, CEO Mori Ben and President Ofir Haimof. As part of their vision statement, Titan Solar strives to be the preferred provider of all solar and energy efficiency solutions by providing exceptional value, expertise, and customization, coupled with the latest technologies for their customers and the communities they serve. This vision has been ideally articulated and brought to life by Jody Franco, VP of Sales and Marketing.
Titan Solar was born out of the need to provide residential and commercial customers with affordable and diversified options to switch to green energy. After having been in the home improvement industry for many years, Mori and Ofir utilized their knowledge of the construction industry to bring additional value through energy cost savings to the solar market, including cool roofs, energy-efficient HVAC, and LED lighting. With combined construction and solar power expertise, they offered people a chance to customize their solar project to their liking and according to their budget.
As Californians face many energy, environmental, and economic challenges today, they have reason to be proud of the states progress in addressing these important issues. In 2014 California came in first in some of these important areas. The U.S. Bureau of Labor Statistics reported that California led the nation by adding 498,000 jobs between January 2014 and January 2015. California was also at the vanguard in installed solar capacity in 2014. According to the Solar Energy Industry Alliance (SEIA), the entire U.S. installed 6,201 MW of solar photovoltaics (PV) in 2014, while California alone installed 4,316 MW in the same period, an impressive 69.6 % of the total U.S. solar (PV) installation for that year.
Even in this highly competitive and saturated California solar market, Titan Solar thrives as one of the top providers of energy efficiency solutions, making an important contribution to our economy and environment. The opportunity to positively affect the environment with clean and renewable energy is a prized bonus to the proposition of providing home and business owners with cost-effective American made solar power systems while creating jobs that stimulate the economy. With 2,226 California solar companies that have added 54,700 jobs (according to Solar Power World), Titan Solar Construction is glad to be part of this important green energy revolution.
Featured Product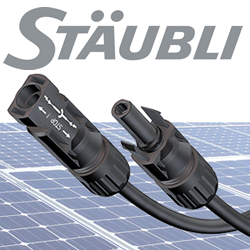 ​Stäubli Electrical Connectors are used on more than 300 GW, over 50% of the PV capacity worldwide. The MC4 family of UL and TUV listed products include connectors, in-line fuses, branch connectors, cable assembly and more.