FREMONT, Calif. and HYDERABAD, India, Aug. 17, 2015 -- NEXTracker, Inc., manufacturer of the world's most advanced single axis solar trackers and PES Engineers Private Limited (PES), one of India's premier renewable power engineering and construction firms, jointly announced today that the two companies have entered into a 400MW multi-year supply agreement for the Indian market. Over the next three years, NEXTracker and PES will deliver trackers and installation services to major construction projects throughout the subcontinent. The first project under the agreement will ship next month to central India.

"PES is delighted to be partnering with NEXTracker as a key component of our solar strategy," said Vasudeva Prasad, Managing Director of PES. "After reviewing favorable 3rd party evaluations of NEXTracker's technology, we found the self-powered tracker to be ideal for maximizing the energy production potential of solar sites throughout India. Its independent row architecture and self-powered design will help us deploy more photovoltaics to a wider variety of sites in less time - for less cost. We will also benefit from NEXTracker's core competencies including system design, commissioning, and O&M support."
"PES is a highly experienced, visionary EPC with a 23 GW track record of delivering incredibly complex power engineering projects. They have shown consistent leadership in adopting next generation technologies," noted NEXTracker CEO Dan Shugar. "We're excited to partner with PES to jointly help developers maximize the profitability of solar power projects. India has the potential to be one of the world's largest solar markets and we are thrilled to be expanding our presence there."
According to financial energy experts and solar industry analysts, India is poised for intensive growth over the next decade. "The industry has grown almost 100 times in the last five years to 3,500 MW and the government has set a target of 100,000 MW by 2022," states Sneha Shah, Editor-in-Chief of Greenworldinvestor and frequent contributor to financial press covering energy, economics and the Indian market. Factors contributing to this increasing demand for solar power in this region include favorable government policies, a large power deficit and high solar radiation.
NEXTracker's unimpeded, unlinked rows provide greater layout flexibility on a wide range of sites, as well as significantly lower operations and maintenance costs. With rapid construction time resulting in a faster project completion, and higher energy yield, NEXTracker helps EPCs deliver more profit and reliability to system owners. This technology, coupled with PES' extensive experience in delivering turnkey energy infrastructure solutions, will create a considerable force for deployment of solar in India.
About NEXTracker, Inc.
NEXTracker, designer and manufacturer of the world's most advanced single axis PV trackers, offers a significant breakthrough in horizontal tracking, with lower costs, better performance and more flexibility for ground-mounted solar power plants. These benefits increase solar project profits for developers, EPCs and system owners. Leveraging world-class design and installation expertise, NEXTracker has delivered trackers for projects across five continents. Headquartered in Fremont, California, NEXTracker is one of the fastest growing clean technology companies. Follow us on Twitter @NEXTracker.
About PES Engineers Private Limited
PES Engineers undertakes execution of engineering and construction projects in Solar, Hydroelectric, Nuclear and Thermal power plants, Steel and Oil and gas installations. India's leading service provider in the Hydro Mechanical Equipment segment, PES specializes in Hydro and Electro- Mechanical equipment/services including: Design, Manufacture, Fabrication, Erection, Testing and Commissioning of Penstocks, Valves, Gates and Expansion joints, Turbines and Generators. Incorporated in 1981, PES has over 2,400 employees and a nationwide network of offices and project sites.
Featured Product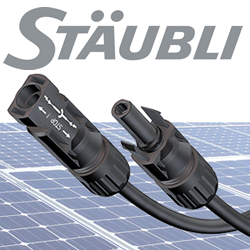 ​Stäubli Electrical Connectors are used on more than 300 GW, over 50% of the PV capacity worldwide. The MC4 family of UL and TUV listed products include connectors, in-line fuses, branch connectors, cable assembly and more.