JK Mechanical Selects AET's Rayport-G ECO System for 1 MW Solar Project
YORK, Pa. - August 19, 2015 - Applied Energy Technologies (AET), a preferred supplier of commercial and utility-scale racking systems and one of the top 10 solar racking companies in the United States, was selected by JK Mechanical to supply its Rayport™-G ECO ground mount for a 1 MW project in York, Pennsylvania. The project is currently being installed. AETs racking system for the project will support a total of 3,116 solar panels.

"We are happy to be working with JK Mechanical for this project," said Aaron Faust, VP of Business Development at AET. "Having had the opportunity to work with them on other projects, we knew the quality they expect."
AETs Rayport™-G ECO is UL listed and is rapidly becoming an industry standard for developers and EPCs looking for a ground mount system that is easy to install, scalable and delivers a significant savings on total installed costs.
"We have relied on AET in the past for smaller projects," said Ken Craul, Operations Manager of JK Mechanical. "Once we knew we had a ground mount system of this size, it was clear to us that the Rayport™-G ECO would be a perfect fit."
AETs Rayport™-G ECO is strong and durable, having been engineered to withstand the most challenging environmental conditions, as well as light and compact, allowing for high shipping density, significantly reduced freight costs and easier handling on the job site.
About Applied Energy Technologies (AET)
Applied Energy Technologies (AET), a leading provider of world-class solar mounting solutions, delivers top quality engineering, manufacturing and installation (EMI) services for bankable utility and commercial-scale solar projects. With an impeccable track record of more than 200 MW in completed projects, 100% on time delivery, 100% on budget, and zero warranty claims, AET meets the highest standards in product manufacturing, design and engineering, and installation required by some of the solar industrys foremost leaders. AET has more than 30 years of product development and engineering experience, and creates mounting solutions that stand up to harsh environmental conditions, meet tough budget constraints, and are fast and easy to install. For more information, visit: http://aetenergy.com/.
Featured Product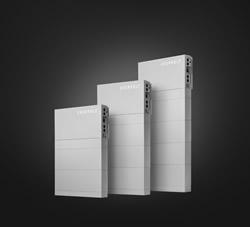 Panasonic's Total Home Energy System is built to deliver. The same battery technology we use to power the world's most advanced electric cars is now available to power your home. But it doesn't stop there. The all-in-one renewable energy system pairs Panasonic solar panels with Evervolt™ batteries to offer your customers a complete solar + storage solution, manufactured and warrantied by a company you know you can trust. In stock now.