Company announces distribution of Quick Mount PV systems
HILLSBORO, Ore., Aug. 20, 2015 - SolarWorld, the largest U.S. solar manufacturer for 40 years, today announced its alignment with an industry trend away from use of long rails in mounting solar panels and toward rail-free racking in light of the latters cost savings in materials, labor, storage and shipping. Innovative rail-free racking attaches the solar panels directly to individual roof mounts, instead of conventional, long rails.

"Rail-free residential racking fits well into SolarWorlds portfolio of the best solar products on the market," said Ardes Johnson, U.S. vice president of sales and marketing for SolarWorld. "Our rail-free racking systems offer lower material costs, reduce installation time on often hot roofs, take up a much smaller warehouse footprint, cost significantly less to ship and, at the end of the job, look better."
In SolarWorlds drive to bring the markets best products to installers, SolarWorld announced an alliance with Quick Mount PV, a leading U.S. manufacturer of solar roof mounts based in Walnut Creek, Calif. Quick Mounts patented Quick Rack rail-free system upholds the companys best-in-class standards of quality and customer experience.
"Quick Mount is honored to be a part of this select group of racking vendors and industry elite," said Anne Wright, vice president of sales for Quick Mount. "SolarWorld and Quick Mount have the same values and standards that installers can bank on: made in America, commitment to quality, customer support, training and manufacturing excellence. With simplified ordering from SolarWorld, we believe installers can save time and money on every installation, and sell more solar. When good companies work together, the industry moves forward."
As a result of the alliance, SolarWorld will offer the Quick Rack rail-free systems alongside other best-in-industry residential, commercial and utility-scale solar products.
"SolarWorld is carrying out its history of providing products that live up to the high expectations and requirements of its customers and partners," Johnson said. "We are committed to providing whatever level of support that our customers need to help them have more success in an increasingly competitive landscape."
About SolarWorld REAL VALUE: SolarWorld manufactures and sells high-tech solar power solutions and, in doing so, contributes to a cleaner energy supply worldwide. The group, headquartered in Bonn, Germany, employs about 3,500 people and carries out production in Freiberg, Germany; Arnstadt, Germany; and Hillsboro, Oregon, USA. From raw material silicon to solar wafers, cells and modules, SolarWorld manages all stages of production ‒ including its own research and development. Through an international distribution network with locations in the United States, Europe, Singapore, Japan and South Africa, SolarWorld supplies customers all over the world. The company maintains high social standards at all locations across the globe, and it has committed itself to resource- and energy-efficient production. SolarWorld was founded in 1998 and has been publically traded on the stock market since 1999. Connect with SolarWorld on Facebook, Twitter and www.solarworld.com.
Featured Product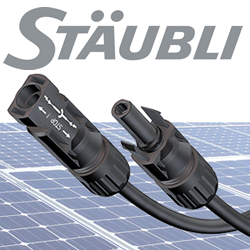 ​Stäubli Electrical Connectors are used on more than 300 GW, over 50% of the PV capacity worldwide. The MC4 family of UL and TUV listed products include connectors, in-line fuses, branch connectors, cable assembly and more.