78 new solar homes will provide returning veterans clean, affordable energy for the next two decades; SolarCity installs first phase of solar homes - 26 solar power systems - in a single day
WOODLAND HILLS and SAN MATEO, Calif., Aug. 21, 2015 -- SolarCity (Nasdaq: SCTY) and Habitat for Humanity of San Fernando/Santa Clarita Valleys, together with the California Department of Veterans Affairs (CalVet), have come together for the first time to build 78 new affordable solar-powered homes in Santa Clarita, California for returning veterans. The new home project is made possible by the CalVet Residential Enriched Neighborhood® (REN) program, which utilizes the Enriched Neighborhood® model to provide housing, specialized services and training that aims to help veterans returning from combat achieve upward mobility and more smoothly reintegrate into civilian life. The SolarCity crews, including 7 veterans on staff, joined forces to complete the project in a single day for future veteran homeowners. The solar power systems on the first new phase of homes - 26 total - were installed in a matter of hours yesterday.

All CalVet REN homes are at minimum Energy Star Certified, but this new community is the first to feature solar power from SolarCity, America's #1 solar power provider. SolarCity makes it possible for the veterans to install solar with no upfront cost and save money on energy costs by paying less for solar electricity than they pay for utility power. Veterans are also able to lock in solar power rates for the next twenty years, protecting them from future utility rate increases and increasing their independence from polluting fossil fuels.
"This community is not just housing for veterans, but a true way to honor our returning servicemen and women," said Donna Deutchman, CEO of Habitat for Humanity of San Fernando/Santa Clarita Valleys. "The partnership with SolarCity will offer veterans an environmentally friendly community with low cost solar energy that also provides long term savings. Beyond the gift of homeownership, the community is intended to be a healthy and sustainable place for families to grow."
The first phase of new solar homes is expected to be fully completed in September 2015. SolarCity will include up to 12 solar panels per home, and the solar power systems are expected to offset a majority of the electricity used in each home - all at a discount to utility power.
Veterans interested in purchasing one of the new solar homes must follow CalVet's REN community guidelines, including the completion of 500 hours of "sweat equity." Veterans, along with hundreds of additional volunteers from local groups and corporations, help to build the homes in the CalVet REN communities. Community partners provide the veterans additional training in self-sufficiency and personal growth for up to a year after they move in.
SolarCity currently works with more than 100 homebuilders across the country to offer clean, affordable solar energy. To learn more, please visit www.solarcity.com/homebuilder.
About Habitat for Humanity of San Fernando/Santa Clarita Valleys
Habitat SF/SCV is a locally run, independent, non-profit organization serving North Los Angeles City and County, building houses and futures for low-income families. Our mission is to lift low-income working civilian and veteran families out of substandard housing and to offer them a gateway to the American Dream of homeownership so that they can build brighter economic futures. We specialize in building the unique Enriched Neighborhood® communities, which we are currently building for low-income veterans in collaboration with the California Department of Veterans Affairs. These veteran-specific communities include a completed 12-home Enriched Neighborhood in Sylmar, a 78 home community in Santa Clarita, currently under construction, and a 50-home community in Palmdale, currently in the planning phases. To date, we have built 271 homes, placing us in the top 5% of Habitat affiliates nationwide to reach the goal of building more than 100 homes. Habitat for Humanity of San Fernando/Santa Clarita Valleys was founded in 1990 as an affiliate for Habitat for Humanity International.
About SolarCity
SolarCity (NASDAQ: SCTY) provides clean energy. The company has disrupted the century-old energy industry by providing renewable electricity directly to homeowners, businesses and government organizations for less than they spend on utility bills. SolarCity gives customers control of their energy costs to protect them from rising rates. The company makes solar energy easy by taking care of everything from design and permitting to monitoring and maintenance. Visit the company online at www.solarcity.com and follow the company on Facebook & Twitter.
Featured Product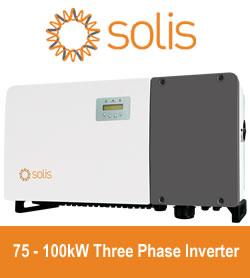 Solis75kW - 100kW series high-power string inverters are widely used in industrial and commercial rooftops. Solis's new three-phase string inverter is the first choice for industrial and commercial photovoltaics. 75-100kW three phase series string inverter have Maximum 28 strings input, support "Y" type connection in DC side. Maximum string input current 13A, support bifacial modules access.Supports anti-PID function to improve system efficiency.