"Todays demonstration marks the Kitty Hawk moment for our SolarWindow™ technology"
COLUMBIA, Md.--SolarWindow Technologies, Inc. (OTCQB: WNDW) has released its first-ever video of a working, electricity-generating demonstration window, featured in todays webcast, SolarWindow: Power Reinvented. Viewers witness the companys SolarWindow generating electricity from the sun. Click here to watch the video.

"Todays demonstration marks the Kitty Hawk moment for our SolarWindow™ technology," said John A. Conklin, President and CEO, SolarWindow Technologies, Inc. "Its a great way to see how, exactly, we can turn the countless acres of glass on offices, hotels, and commercial buildings into clean power generators."
In the video released today, clean electricity is generated on transparent glass tinted in a high-demand color and framed in aluminum, popular with architects and developers of commercial towers.
The company is developing its proprietary windows for an estimated five million skyscrapers, tall towers and commercial buildings in the US alone. Commercial buildings consume over one-third of Americas electricity.
SolarWindow achieves financial payback within one year, according to calculations independently validated by the University of North Carolinas Energy Performance and Infrastructure Center.
SolarWindow modules can be applied to all four sides of tall towers, generating electricity using natural, shaded, and even artificial light. Conventional solar does not work in shaded areas or perform under artificial light. As a result, SolarWindow modules outperform todays solar by as much as 50-fold when modeled for installation on a 50-story building.
A single installation of the companys SolarWindow technology is calculated to avoid 2.2 million miles of vehicle pollution, at least 12-times more than todays solar systems on building rooftops; and could reduce carbon emissions equivalent to 770 acres of forest, compared to todays rooftop (PV) systems equivalent to only 20 to 70 acres of forest, according to engineers.
Todays just-released video demonstrates the transparency and power of a working SolarWindow unit, and is available at: http://solarwindow.com/2015/08/solarwindow-electricity-from-glass/.
More information on todays webcast - SolarWindow: Power Reinvented - broadcast live online at 2:00 PM EDT, will be available in upcoming announcements.
About SolarWindow Technologies, Inc.
SolarWindow Technologies, Inc. is a developer of next generation, transparent electricity-generating SolarWindow coatings.
SolarWindow coatings generate electricity on see-through glass and flexible plastics with colored tints popular to skyscraper glass. Unlike conventional systems, SolarWindow can be applied to all four sides of tall towers, generating electricity using natural and artificial light conditions and even shaded areas. SolarWindow uses organic materials, which are dissolved into liquid, ideal for low-cost high-output manufacturing; and is the subject of a patent pending technology.
The companys Proprietary Power Production & Financial Model (Power & Financial Model) uses photovoltaic (PV) modeling calculations that are consistent with renewable energy practitioner standards for assessing, evaluating and estimating renewable energy for a PV project. The Power & Financial Model estimator takes into consideration building geographic location, solar radiation for flat-plate collectors (SolarWindow irradiance is derated to account for 360 degree building orientation and vertical installation), climate zone energy use and generalized skyscraper building characteristics when estimating PV power and energy production, and carbon dioxide equivalents. Actual power, energy production and carbon dioxide equivalents modeled may vary based upon building-to-building situational characteristics and varying installation methodologies.
For additional information, please call Ms. Briana L. Erickson toll free at 1-800-213-0689 or visit: www.solarwindow.com.
Featured Product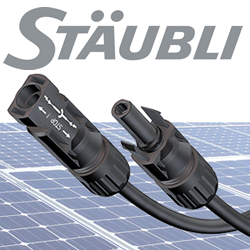 ​Stäubli Electrical Connectors are used on more than 300 GW, over 50% of the PV capacity worldwide. The MC4 family of UL and TUV listed products include connectors, in-line fuses, branch connectors, cable assembly and more.