-PROINSO has announced details of a new roof top product designed to meet the distinct market challenges of South Africa-
One of the largest integrator and distributor companies of solar components in the world, PROINSO is set to strengthen its presence and penetration in the South African photovoltaic market with the launch of PROINSO PV RACK.

Drawing on a heritage of over 1.7GW across projects worldwide, PROINSO PV RACK is one of simplest roof top structures to assemble on the PV market and takes just a few minutes to construct and mount. PROINSO PV RACK will be available to installers across South Africa from September 2015.
Russell Varty, General Manager at PROINSO African Solar Energy, commented, "The launch of PROINSO PV RACK marks a new era for PROINSO in Southern Africa and we believe this will benefit a diverse range of consumers throughout the region. Southern Africa is an extremely variable solar market with a need for quality PV equipment together with distributed and sustainable supply. PROINSO PV RACK adds exceptional value by offering both versatility and usability whilst reducing the risk to the installer, this all assists in the successful implementation of PV projects.
Mark Ryder, Commercial Director at PROINSO, added, "We are delighted to be launching our newest PV mounting structure kit in to the Southern African residential and commercial solar roof top market. Southern Africa is one of the most exciting and emerging PV markets in the world and we are in an extremely strong position to lead the market."
Featured Product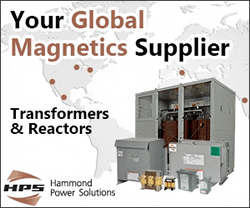 HPS is the largest manufacturer of dry-type transformers in North America. We engineer and manufacture a wide range of standard and custom transformers that are exported globally in electrical equipment and systems. We support solid industries such as oil and gas, mining, steel, waste and water treatment, and wind power generation. HPS leads the industry in these markets through its technical design strength, breadth of product, and manufacturing capabilities, making HPS a stronger company both fundamentally and financially.