New York, 09/07/2015 - After opening an office in San Diego CA, Optimum Tracker, a company specialized in solar trackers for utility PV plants, will strengthen its presence on the American market at SPI 2015
New O-Track HZ structure at Solar Power International 2015

After the opening up of offices in South Africa, Chile and Mexico, Optimum Tracker is now looking again towards the United States with the creation of a subsidiary in New-York. Thanks to this strategic step in its international growth, the company will expand its solar structure design, manufacturing, installation and maintenance operations over North America. Developers, EPCists and the general public will be able to discover the companys latest products and services at the Solar Power International 2015 show in Anaheim CA. The new O-Track HZ tracker will be on display, equipped with Solar Frontiers latest generation Thin-film CIS modules, at booth 6630.
A new and exclusive patent
Optimum Tracker will also take the opportunity of SPI 2015 to showcase its new Opti-Sky Sensor© patented product. This particularly innovative system makes it possible to increase even more the efficiency of photovoltaic plants. Thanks to an elaborate system of sensors and a powerful algorithm developed in-house, the tracking of the PV panels is now optimized in real time according to the skys brightness. An innovation which is directly part of the leitmotiv followed by Optimum Tracker: a continuous process to improve PV-plants performances for its customers.
About Optimum Tracker
Founded in 2009, Optimum Tracker designs, develops and supplies cutting-edge solar tracking systems for utility-scale solar power plants. Optimum Tracker also offers manufacturing, installation and maintenance flexible services, with the aim to adapt to any photovoltaic projects need. Optimum Tracker creates simple and robust solutions that significantly increase solar plants efficiency and profitability. Using a patented algorithm that drives trackers to turn the PV modules towards the sun from dawn until dusk, Optimum Trackers systems deliver improved yields of up to 30% compared with fixed-tilt structures. Building upon performance, simplicity and cost reduction, Optimum Tracker developed 2 ranges of products suitable for any type of ground: Single-axis trackers for conventional PV panels and fixed tilt structures. Headquartered in Meyreuil, France with offices in San Diego CA, Johannesburg, South Africa, Santiago, Chile and Mexico D.F, Mexico, Optimum Tracker is working to strengthen the share of solar PV in the world energy mix and to be ranked among the global industry leaders, by expanding its activities worldwide.
Featured Product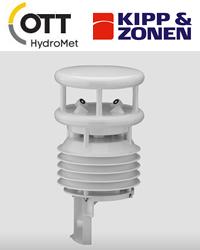 The WS50PV is an affordable, compact all-in-one weather sensor measuring the most critical parameters for commercial and industrial PV monitoring. Equipped with a suite of professional measuring sensors, the WS50PV can handle air temperature, relative humidity, barometric pressure, wind direction, and wind speed in one efficient housing to simplify mounting. Add an external temperature or rain sensor to the single-wire digital Modbus interface for fast and easy integration. The WS50PV is the tool you need for unlocking solar energy performance.