Installers in California, Massachusetts and 8 Additional States Gain Access to Market-Leading Solar Loans for Homeowners
Pleasanton, CA & Boston - September 9, 2015 - ENACT Systems, a leading provider of web-based distributed energy sales software and Sungage Financial, a financial solutions provider for the residential solar industry, today announced a partnership to enable installers to have easy access to Sungages financing products through ENACTs distributed energy sales and financing workflow automation platform. The low-interest loans, ranging in term from 5 to 20 years, offer homeowners flexibility and affordability. Under this partnership, Sungage and ENACT are offering an on-line and streamlined application process which allows homeowners to receive credit decisions in minutes.

Visitors to Solar Power International (SPI), held in Anaheim, Calif. (September 14-17), can visit ENACT Systems at booth # 228 to demo its software and this new inte-grated financing solution with Sungage Financial.
Industry experts have noted that as the cost to install solar continues to fall, con-sumers are demanding financial options that support ownership instead of leas-ing. "PPAs (power purchase agreements) and leases are declining in popularity, and loans are rapidly gaining ground among savvy consumers. Credit-union backed loan products with contractor-friendly processes and best-in-class servic-ing teams, like Sungages, are in high demand and we are excited about this partnership", said ENACT Co-Founder and CEO Deep Chakraborty.
ENACTs collaboration with Sungage Financial expands on the companys mis-sion to incorporate best-in-class financing options into its offerings for the distrib-uted energy ecosystem. Using the ENACT web-based platform, installers can reduce operating costs, while accelerating revenue growth, allowing them to scale faster. The platform also enables the ability to reduce soft costs associated with customer acquisition, operations and financing, track and report sales and finance pipelines, as well as improve internal team collaboration.
Sara Ross, Co-Founder and CEO of Sungage said "By using the ENACT plat-form, installers can reduce their costs as well as increase their productivity and sales efficiency. Making installers more profitable and effective in the market-place is core to Sungages mission. We are thrilled to offer our financial products to homeowners through ENACTs installer user base and software as a service platform."
Sungages residential solar loan products are available to ENACT users in Cali-fornia, Colorado, Connecticut, Maryland, Massachusetts, New Hampshire, New Jersey, New York, Texas, and Vermont. Sungage joins 60 other organizations offering products and services on ENACTs web-based workflow automation plat-form. The addition of Sungage as a preferred partner comes on the heels of EN-ACTs recently announced partnership with RapidAdvance to offer the new "Quick Working Capital" solution to distributed energy services contractors using its SaaS platform, such as solar and energy efficiency installers.
ABOUT ENACT SYSTEMS INC.
ENACTs SaaS platform provides end-to-end business process automation solu-tions for distributed energy developers, installers, and investors. ENACTs func-tional SaaS marketplace is focused on lowering customer acquisition, operational and financing costs, while enabling incremental revenue growth for all stake-holders. ENACT SYSTEMS is headquartered in Pleasanton, CA, with an office in Bangalore, India.
ABOUT SUNGAGE FINANCIAL
Sungage Financial is a marketplace that provides homeowners with easy, online access to low-cost financing for solar equipment. Headquartered in Boston, Mas-sachusetts, Sungage partners with leading solar installers and institutional inves-tors to help homeowners save money on energy. An innovator in solar finance, Sungage brought to market the first secured residential solar loan in the nation in 2013. The company is committed to helping homeowners save more through ownership. For more information, please visit: www.sungagefinancial.com.
Media Inquiries:
Technica Communications for ENACT
Lisa Ann Pinkerton
lpinkerton@technicacommunications.com
408-806-9626
Meredith Frazier
BIGfish Communications for Sungage Financial, Inc.
sungage@bigfishpr.com
617-600-7560
Featured Product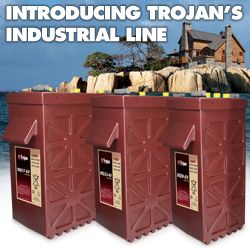 Trojan's deep-cycle batteries provide rugged durability, outstanding performance and long life for use in all types of solar energy installations. With over 90 years of experience, Trojan delivers the world's most reliable and trusted batteries in flooded, AGM, Gel, and Lithium types. These batteries enable solar equipment systems to operate at a peak level of performance in the harshest conditions or the most challenging of locations and are manufactured and tested to IEC standards.