The new higher voltage 1500V PV inverter marks a shift in the solar industry, enabling utility-scale solar plants to become more cost-effective ---GE Energy Management will deliver 1500V PV inverter solution totaling over 1GW for NextEra Energy Resources solar portfolio planned to start operation in 2015-2016 ---GE is the first in the market with LV5 1500V PV inverter, one of the most efficient solutions for utility scale solar PV power plants
Las Vegas, NV - 10 September - GE's commitment to bring advanced technology to the solar industry is enabling higher energy efficiency and making what was once a high cost option for utilities a low cost alternative for generating electrical power. GE is at the forefront of bringing the latest inverter technology to market and is in the process of helping NextEra Energy Resources, LLC, a subsidiary of NextEra Energy, Inc., operate some of the most cost-effective solar parks in North America.

GE Energy Managements Power Conversion business will provide its latest LV5 1500V solar inverters, both at 2MW and 4MW, to equip solar farms in various locations across the U.S.A. The total installed capacity will be over 1GW and the project marks a turning point in the industry; it is expected to be the fastest and the largest deployment of 1500V technology by a single developer in North America, marking an anticipated industry shift towards the 1500V solar plant design.
"In making our choice, we insisted on having a technology that would not only be dependable and reliable, but that would also help make our offering increasingly cost competitive while yielding optimized productivity. We are pleased to be partnering with GE Power Conversion to help us achieve this," said Armando Pimentel, President and CEO, NextEra Energy Resources.
"The global solar industry is growing rapidly. Delivering a cost-effective solar power solution at utility scale is about finding ways to increase operational efficiency," said Mark Begor, CEO, GE Energy Management. "GE is providing its latest technology that will efficiently convert solar energy into electricity. We are committed to delivering on NextEra Energy Resources expectations through the supply of our LV5 inverter and will provide support to help them drive down operating and maintenance costs over the life of their solar plants. "
Building on the legacy of 1000V inverters, GEs 1500V LV5 inverters are specifically designed for the solar industry. By increasing the voltage level, the LV5 inverter enables the inverter power stations power rating to be doubled and thus decreases system losses and balance of plant costs. In addition, GEs LV5 inverters have the latest software controls ensuring optimized power harvesting and a smooth integration of power produced into the grid.
This project also marks GE as an industry leader in providing a 4MW inverter solution. Compared to the conventional market offering of around 2MW, this 4MW block size means less inverter power stations leading to reduced construction costs and time, along with a significant reduction in operating expense.
Mahesh Gandhi, Director of North American Solar Sales and Business Development, GE Power Conversion said, "GEs LV5 1500V inverter technology helps optimize the plant design by enabling a higher DC/AC ratio. This provides high technology maximum power-point tracking algorithms to help ensure maximum power throughput. GE is focused on providing the latest technology while ensuring all safety and quality standards are met while promoting high reliability when in operation. These factors are essential to keeping the plant cost down and providing increased plant efficiency to meet the extremely competitive North American solar market."
GEs LV5 inverter technology occupies a smaller footprint while enabling cost savings and ensures efficient and smooth operation with full flexibility. This is at the heart of the LV5 technologys offering, helping to improve cost performance in the solar industry.
Featured Product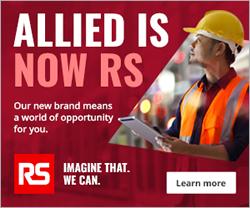 Moxa is a leader in edge connectivity, industrial computing, and network infrastructure solutions for enabling connectivity for the Industrial Internet of Things. With over 30 years of industry experience and 65 million devices connected worldwide, Moxa has a distribution and service network to serve customers in more than 80 countries. Now at Allied-find over 1,000 products from Ethernet switches, protocol converters, routers, and more. Allied Electronics & Automation, part of RS Group & Automation, part of RS Group is an authorized distributor of Moxa.