SEFA President to Moderate Panels at Two Leading Conferences, Solar Power International and ABS East
NEW YORK, September 14, 2015 - The Solar Energy Finance Association (SEFA), a leadership forum for solar energy capital markets solutions, has announced that in addition to supporting the ABS East conference as an association support, the organizations president, Mary Rottman, will be moderating panels at leading conferences Solar Power International (SPI) and ABS East.

At SPI, Rottman will be a panel moderator for Innovative Financing on September 15. The panel will be comprised of solar financing experts including executives from Mosaic, Sungage Financial and KeyBanc. She will also be moderating the panel called The ABCs of Renewable Energy at ABS East on September 16. Speakers include executives from Chapman and Cutler LLP, Altus Power America Management and Kroll Bond Rating Agency. SEFA will also be unveiling the associations latest educational tool: a glossary of solar financing terminology. Copies of the glossary will be available at SEFAs exhibit.
"Conferences such as SPI and ABS are critical to the growth of the industry, as they allow for conversation amongst the leading experts worldwide," said Rottman. "Our goal as an association is to expand access to capital for solar and help the standardization process across the industry. These events are a great opportunity to meet with leaders in the industry and gain new insights that will shape our efforts."
ABS East is one of the most important structured finance industry conferences, hosting a delegation of over 3,500 structured finance professionals annually. SPI is designed to serve and advance the solar energy industry by bringing together the people, products, and professional development opportunities that drive the solar industry and are forging its future. With deep expertise in solar finance, SEFA is well positioned to provide thought leadership in the industry.
ABOUT SEFA
The Solar Energy Finance Association (SEFA) is a leadership forum for solar energy capital markets solutions and the focal point for the industry common purpose and national outreach for the benefits of solar adoption in the United States. SEFA will carry out its mission of expanding availability of capital for distributed solar energy by promoting industry best practices; standardizing financing documents; and informing investors, consumers and other key stakeholders about distributed solar. SEFA was formed in 2013 to expand access to public capital, specifically securitization, for residential and commercial solar projects. SEFA is leveraging and expanding upon the work of the National Renewable Energy Laboratorys (NREL) Solar Access to Public Capital working group. That effort established a broad-based industry forum to identify barriers and develop business process tools and solutions to facilitate the transaction process. These include standard solar finance contracts, industry best practices and the development of robust system and credit performance datasets. For further information visit SEFA-finance.org.
Featured Product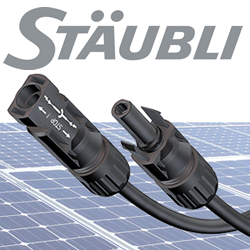 ​Stäubli Electrical Connectors are used on more than 300 GW, over 50% of the PV capacity worldwide. The MC4 family of UL and TUV listed products include connectors, in-line fuses, branch connectors, cable assembly and more.