meecos sun2live rooftop installation supports work processes of Seasons Foods (Pvt) Ltd.
For years the occasionally strong growing economic development of Pakistan is falling well short of expectations. In comparison to other emerging countries the economic growth (4,1 percent in 2014, source: GIZ) continues to languish at a lower level. There are several reasons encouraging this weak development. One of the most urgent issues is the ongoing energy crisis containing energy shortages, which often lead to power cuts plunging the country int o darkness.

Power outage was also one of the recurring daily obstacles of Pakistans leading meat manufacturer Seasons Foods (Pvt) Ltd., which primarily operates in the business of chicken processing and the creation of high quality fresh and frozen products. Moreover, the company is part of Seasons Group having subsidiaries in Flour Milling, Poultry & Cattle Feed, Edible Oil Extraction, Breeder & Broiler Farms and Hatcheries. To increase its efficiency and avoid power cuts Seasons Foods decided for a solar power solution provided by the Swiss-based clean energy supplier The meeco Group through one of its joint venture companies, oursun Solar Power Ltd., located in Pakistan.
A Power Purchase Agreement (PPA) is tying the meat manufacturer and the clean energy provider for six years now and became the essence of a strong and lasting partnership. The PPA was initially aiming at the construction of a 400 kWp sun2live rooftop installation from which 350 kWp are already installed. Seasons Foods has announced its wish to extend the contract to 700 kWp.
In the following interview the current director of Seasons Foods, Salman Tariq, will talk about his experiences regarding the meeco solar solution and explains how the system has changed work processes and daily routine of Seasons Foods employees.
Mr. Tariq, solar energy is a sustainable power supply. Beyond, it provides companies with many benefits. Which individual reasons did Season Foods convince and encourage to install a solar system on its roof?
Before the completion of the sun2live rooftop system, we were facing numerous problems regarding the energy supply. Among them, one of the most serious issues has been the regular power outage, which have caused grave production losses. Consequently, we were obligated to maintain multiple backup generators in case of power failures. Moreover, due to electricity fluctuations and voltage problems, our equipment and our machines wore, which in turn, entailed financial burdens. In addition to it, we had to deal with high electricity and fuel charges.
Did the solar installation solve the indicated problems?
To cover our rising power consumption, we would have had to apply for an extension of our power load from the Lahore Electric Supply Company (Lesco), which, as I already mentioned, is quite a time consuming process. Thanks to the sun2live power supply source, we have been a ble to avoid this load enhancement from Lesco, as meeco's solar solution provided us with around 300 KWp, which represents around 20 percent of our energy demand. This solar rooftop initiative gave us the chance to elude an investment in bigger generators. Now generators and solar power are working in sync to keep up with the power demand we have. Thus, our production has become stable and much more effective. Breakdowns are now an infrequent exception.
How do the Pakistani people in general react to solar systems like yours? Are they well aware of this alternative energy source and do they invest in such projects?
A lot of people are interested in a similar solution, which goes along with buying out the equipment or sharing in the initial investment. There are a lot of international solar companies operational in Pakistan and the solar power market is growing steadily. Higher fuel prices are also shifting consumer attitudes towards those solutions.
About The meeco Group: The meeco Group was consolidated in 2000 and oriented its main focus towards the energy sector. With world headquarters located in Zug, Switzerland, the group currently has over 50 employees working across 4 continents. Thanks to a structured but flexible approach based on its core competencies, meeco has delivered over 370 MWp of clean, renewable energy solutions across four continents. The meeco Group accomplishes its mission by providing project developers, investors, governments, and private businesses with the services necessary for timely financing, installation, and operation of clean energy assets.
Featured Product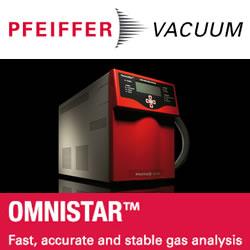 The Pfeiffer Vacuum OmniStar benchtop analysis system offers you a compact footprint, powerful software and Ethernet connectivity. It's the optimum solution for many real-time gas analysis applications. With the OmniStar, Pfeiffer Vacuum offers you a complete solution for gas analysis, in chemical processes, semiconductor industry, metallurgy, fermentation, catalysis, laser technology and environmental analysis. The turnkey OmniStar gas analysis system consists of heated, temperature-regulated gas inlet system, Quadrupole mass spectrometer, a dry diaphragm vacuum pump and HiPace turbopump. Unlike competing methods such as FTIR, OmniStar is suitable for qualitative and quantitative analysis of most gases.