"We see Predictive IV as an evolutionary step to an already great product offering, and yet another selling point that tips the scale in favor of Tigo in the module-level power electronics space"
LOS GATOS, Calif.--Tigo Energy, the smart module market leader, today introduces the cutting-edge Predictive IV ("PIV") tracking technology allowing PV modules to generate the maximum energy possible in the industry. PIV utilizes PV modules' unique parameters and advanced analytics, incorporating Maximum Power Point Tracking (MPPT) and Impedance Matching techniques, as well as historical module behavior statistics to predict the optimal settings.

Moreover, PIV eliminates the need to pay the high cost of installing an optimizer on every module to gain maximum energy harvest and does not require any communication accessory, thereby guaranteeing customers the absolute lowest cost of any high-power producing PV system on the market, while ensuring the greatest ROI.
"We see Predictive IV as an evolutionary step to an already great product offering, and yet another selling point that tips the scale in favor of Tigo in the module-level power electronics space," commented JDS Power CEO Jon Silvester.
PIV-based modules can be combined with traditional modules on the same string. PV modules outfitted with PIV are capable of enhancing their own performance without the need to communicate at the system-level to perform at the optimum point.
The five TS4 platform covers offered today by Tigo include; Diodes, Safety, Monitoring, Optimization, and Long Strings as described in more detail below:
● TS4-D (Diode): Most reliable standard JBox dissipating heat away from the module, minimizing hot spots
● TS4-M (Monitoring): Remotely collects data in two second increments: voltage, current, temperature, manufacturer name, module type, date manufactured, barcode, and much more wirelessly via module-level communication; lowers operations and maintenance (O&M) costs considerably
● TS4-S (Safety): Rapid shutdown compliant via module-level deactivation, supports anti- theft and revenue protection functionality (includes TS4-Monitoring capabilities)
● TS4-O (Optimization): Addresses shade, system level mismatch, and age tolerance for maximum energy harvesting (includes Monitoring and Safety capabilities)
● TS4-L (Long Strings): Increases string length by up to 30% via voltage control mechanism of each module (includes Monitoring, Safety, and Optimization capabilities)
All TS4 covers with optimization capabilities (TS4-O and TS4-L) feature PIV technology and the other three (TS4-D, TS4-M, and TS4-S) can be upgraded at any point in time as needed. The covers are cost effective, replaceable, upgradeable, and have the ability to mix and match in one string, making them the most flexible and cost-effective DC-DC Module Level Power Electronic (MLPE) solution available to-date.
Combining one TS4-O in a string of eight traditional modules demonstrated an energy boost of 18.5%, making PIV the most inexpensive stand-alone solution for mitigating shade without optimizing an entire array.
"Going forward, any PV Module in a string that is exposed to shade, higher temperature or has a higher mismatch characteristic with other modules, can be outfitted with TS4-O or TS4-L and gain the maximum energy generation efficiencies. We truly value our customers and with this natural evolution of our strategy, we are able to offer a DC-DC solution that guarantees our customers their greatest ROI," said Chairman and CEO of Tigo, Zvi Alon.
All covers are available immediately. Customers need only specify their wish to purchase a PIV-enabled TS4-O or TS4-L module to the PV module provider and selectively deploy optimization on only shaded areas at time of installation.
Many of Tigo's PV module partners will be showing the TS4 platform at SPI. Check one out and ask for the price.
About Tigo
Tigo is the market leader in smart module technology for the solar industry. The Silicon Valley Company utilizes a patented technology to increase energy production, simplify design and installation, improve fire safety, and ensure the highest uptime and reliability with cloud-based monitoring. Tigo's modular TS4 platform can be selectively deployed with different functionalities per module at different price points utilizing Predictive IV (PIV) technology to maximize energy harvest at minimal cost. Tigo's integrated solution is the first and most successful smart module solution in the industry. Tigo is online at tigoenergy.com
Featured Product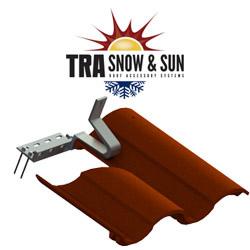 You haven't installed a tile mount that is easier to install than the Solar Tile Mount manufactured by TRA Snow and Sun. Solar Tile Mount is used on all tile roof profiles: flat, mid, and high. It is made in the USA of aluminum alloy for strength and excellent corrosion resistance. Solar Tile Mount is built to allow more ease in installation with more rise from the tile surface to the rail for better air flow below panels. The adjustable base is longer than most allowing attachment 6" to the left or right to have the bracket in the base of the pan of the tile and still fasten to the rafter. Solar Tile Mount is adjustable for counter batten systems from ¾" to 3". The horizontal rail is directly above base fasteners giving greater uplift resistance than any other system. For superior waterproofing apply TRA Snow and Sun's butyl backed VersaFlash aluminum flashing. No tile flashing is needed on top of the tile for greater labor and material cost savings.