New system meets the needs of todays energy market with an optimized all-in-one-solution
Younicos has introduced the companys first hardware product - the Y.Cube. It combines lithium-ion battery blocks with a Younicos-engineered power conversion system (PCS) in a customized enclosure, controlled by the companys industry-leading intelligent energy storage software.

According to James P. McDougall, Younicos Chief Executive Officer, the Y.Cube represents the next gen-eration of integrated storage solutions. "The engineering and design of the Y.Cube were formed by our experience with 100 megawatts of installed storage capacity worldwide, performing under a wide range of operating conditions and system demands. We took the logical next step of injecting intelligence into fundamental system components, resulting in an energy storage converter and battery enclosure thats purpose-built for todays applications."
The Y.Cube consists of two sub-enclosures, one each for the power conversion system and DC battery block. The Younicos-designed PCS is stacked on top of the DC block, significantly reducing space re-quirements and costs associated with engineering and balance of system components compared to sys-tems of the same power rating. The controls are directly embedded in the PCS and communicate directly with the battery system, bypassing the need for additional battery-to-PCS communication interfaces. Its optimized configuration translates to ultra-fast response time for improved PCS efficiency and enhanced grid-forming capability.
The modular design of the Y.Cube allows for a range of battery technologies to be used. Younicos works with multiple suppliers and can integrate different battery systems to address any power/energy ratio requirement. To ensure maximum performance and suitability for any system requirement, batteries are rigorously tested in the companys Technology Centers.
Alan Gotcher, Younicos Chief Technology Officer, explained: "The industry has seen a lot of improvements in battery technologies over recent years, but in our Technology Centers we have been looking at the entire storage solution. For example, one of the design issues that we paid attention to is how to improve operating losses as well as reducing performance risk. Thus we have been able to optimize enclosure cooling requirements and thereby reducing losses and improving battery degradation rates. We also looked at how to best distribute the number of battery racks per PCS so that we are maximizing the usa-ble capacity of the battery technology".
The Y.Cube is available in 250 or 500 kVA modular building blocks that can be deployed individually in smaller applications or combined to create multi-megawatt systems. Once installed, systems can be mon-itored and managed 24/7 via Younicos control centers in Austin, Texas and Berlin, Germany.
The Y.Cubes compact size allows for easy installation. No on-site crane is needed; installation can be done with a forklift, saving considerable time and money. For ease of shipping, the Y.Cube can be split into its two sub-enclosures - one containing either one or two 250 kVA power conversion systems and the other housing the selected battery array.
The Y.Cube from Younicos is now commercially available through the companys international sales channels.
About Younicos
Younicos is a global leader for intelligent energy storage and grid solutions. Clients benefit from technical expertise, commercial know-how and in-depth experience built on nearly 100 megawatts installed in more than 20 energy storage projects worldwide. The company was founded in 2005 in Berlin, Germany, and currently employs more than 130 storage enthusiasts there and in Kyle and Austin, Texas (USA). For more information visit www.younicos.com and follow us on LinkedIn and Twitter.
Featured Product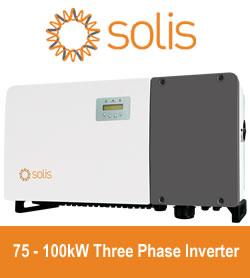 Solis75kW - 100kW series high-power string inverters are widely used in industrial and commercial rooftops. Solis's new three-phase string inverter is the first choice for industrial and commercial photovoltaics. 75-100kW three phase series string inverter have Maximum 28 strings input, support "Y" type connection in DC side. Maximum string input current 13A, support bifacial modules access.Supports anti-PID function to improve system efficiency.