Fresh on the heels of Solar Power International, Circular Energy is Introducing Kilowatt, Megawatt, and Gigawatt O&M Packages for Solar Installs
Austin, Texas (September 16, 2015)

Fresh on the heels of Solar Power International, the biggest solar event in America, Circular Energy is announcing details of new operations and maintenance (O&M) programs for commercial solar energy installations. By measuring and improving system output, Circular Energy can provide optimal energy performance and peace of mind that solar assets are delivering the best possible financial returns. This is especially important for those entities looking to purchase existing solar assets, because as the solar industry continues to grow and mature, assets are changing hands or being solar more frequently.
"Circular Energys Solar Operations & Maintenance (O&M) programs provide long-term solutions for optimizing your solar power systems performance," said Robert Remkes, head of Circular Energys Operations & Maintenance division. "Our tiered programs allow organizations to choose the exact level of maintenance and service that fits their needs," he added.
Circular is offering a vast number of O&M services including PV module cleaning, pest management, vegetation control, roof inspection, and security, along with comprehensive reporting and analysis of system production. Three main levels of operations & maintenance services are offered - Kilowatt, Megawatt, and Gigawatt - with each larger O&M bundle increasing in complexity and oversight.
For more information about the tiered solar operations and maintenance programs visit http://www.circularenergy.com/services/solar-operations-maintenance-services/
About Circular Energy
Circular Energy is changing the way business owners buy electricity. With headquarters in Austin, Texas, Circular Energy brings over 100 years of energy expertise focused on renewable energy solutions, innovative electricity products and energy intelligence. Circular Energy is dedicated to helping American businesses with high-quality, affordable, resilient and sustainable energy solutions. Learn more about a solar energy solution for your business by calling Circular Energy at 866-255-8166 or visiting CircularEnergy.com.
Featured Product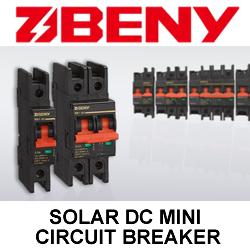 The BB1-63 modular miniature circuit-breakers can be used in solar DC circuits up to 1200 VDC (4-poles execution). Application in solar DC circuits, battery energy storage systems and UPS. Arc flash barrier design keeps solar equipment more safe and reliable. For DC circuit over-current protection.