Winners Announced at Awards Ceremony 4pm PST Solar Power International Industry Trends Booth #3717
September 16, 2015 - Today the Interstate Renewable Energy Council (IREC) honors national award winners for the Best of 2015 in renewable energy and energy efficiency. Celebrating

22 years of recognizing exemplary people, projects and programs, this year's winners in each competitive category were selected by more than 1,500 online voters. IREC 3iAward recipients were recognized during an awards ceremony at Solar Power International.
Also presented today by IREC, a Lifetime Achievement Award and IREC's Action Heroes 2015.
"Through these awards - celebrating Innovation, Ingenuity and Inspiration - we're proud to recognize individuals, programs and projects that are leading the way to a cleaner energy future," said IREC Vice Chair Larry Shirley. "Their work is setting new standards - creating solutions to today's complex renewable energy and energy efficiency challenges - changing communities and our national energy landscape in the process," added Ken Jurman, IREC board member and chair of the 3iAwards Committee.
"We are very excited to honor some truly extraordinary individuals today," said IREC President/CEO Jane Weissman. "They are among our nation's most important energy trailblazers, visionaries, quiet leaders making a very real difference. We're proud to celebrate their accomplishments and inspire others to build on their successes."
IREC 3iAwards are presented for: State & Local Government Project of the Year, Community Renewables Project of the Year, Closing the Divide Between Efficiency and Renewables, IREC Accredited Training Provider of the Year, and IREC Certified Trainer of the Year.
Jerry VentreLifetime Achievement Award Presented To Jerry Ventre, Ph.D.
"Jerry's legacy is embedded in the underpinning of today's strong national clean energy workforce, a distinguished leader in the solar training community for more than 40 years," said IREC President/CEO Jane Weissman. "Quite simply, our gains would not be as advanced without Jerry's leading hand. Today we honor his wisdom and generous willingness to share it, and the large role he has played in moving solar and clean energy from the margins into the mainstream."
Ventre is a well-published researcher, educator and consultant in photovoltaic systems engineering who specializes in system design, distributed generation and workforce development. He served as director of the Photovoltaics and Distributed Generation Division of the Florida Solar Energy Center (FSEC) for more than 20 years, during which time he also managed the Photovoltaic Southeast Regional Experiment Station for the U.S. Department of Energy and Sandia National Laboratories. Previously, Ventre was technical director of the University of Central Florida's (UCF) Space Education and Research Center, and manager of advanced technology at UCF's Institute for Simulation and Training. He served on the aerospace engineering faculties of both the University of Cincinnati and UCF, served as an evaluator of engineering programs for ABET, and is a Registered Professional Engineer (FL). He has conducted research for numerous agencies, including Sandia National Laboratories, NREL, ORNL, NSF, U.S. Navy, FAA, and U.S. DOE.
Ventre has served as senior adviser to both IREC and UCF/FSEC for DOE-funded projects, including the Solar Instructor Training Network, and Grid Engineering for Accelerated Renewable Energy Deployment (GEARED). He also was a member of a National Academies study committee investigating Emerging Workforce Trends in the Energy and Mining Industries.
IREC's National 3
iAward Recipients
Closing the Divide - Integrating Energy Efficiency & Renewables
Community Housing Partners/Town of Blacksburg, VA
Grissom Lane Apartments is a demonstration model of eco-friendly, affordable, 'aging in place' housing for residents aged 55 years and older, developed by Community Housing Partners (CHP) in partnership with the Town of Blacksburg. It is the first EarthCraftTM Virginia Net-Zero Ready development in the state. Each home produces as much or more energy than it uses, with electricity generated by a net-metered 28kW solar photovoltaic system.
Community Renewable Energy Project of the Year
Greater Bergen Community Action
CAP Solar New Jersey 1 LLC, an affiliate of Greater Bergen Community Action, is a unique green technology business collaboration specializing in implementing solar energy projects designed to lower operating costs for Community Action Agencies and other non-profit organizations serving low-income communities throughout New Jersey. CAP Solar has installed more than two megawatts of solar on 36 non-profits in the state.
State & Local Government Achievement of the Year
Energy Trust of Oregon Solar Program
In 2014, Energy Trust's Solar program kicked off a soft-cost reduction initiative to help build the market for solar locally, improve project economics, and allow for support of more new generation at lower costs to customers and ratepayers. In one year, the average cost of a direct-owned residential solar installation dropped nine percent. Incentive applications are up 44 percent and capacity is up 61 percent. Contractors report an average reduction of two hours in administrative time!
IREC Certified Clean Energy Trainer of the Year
Kelly Larson
Kelly Larson, an instructor for Solar Energy International since 1999, is an IREC Certified Master Trainer, a NABCEP PV Certified Installation Professional, and a California licensed electrical contractor. A veteran herself, Kelly is lead instructor for SEI's Solar Ready Vets program, training exiting military personnel to enter the solar industry. With a contagious passion for solar energy, Kelly is a patient instructor who teaches industry best practices, helping build a stronger solar workforce.
IREC Accredited Clean Energy Training Provider of the Year
Solar Energy International
An innovative nonprofit educational organization founded in 1991, Solar Energy International has provided industry-leading technical training and expertise in renewable energy to more than 40,000 individuals worldwide, empowering people, communities and businesses. It is the lead training institution for the U.S. Department of Energy's Solar Ready Vets pilot program.
IREC's 2015 Action Heroes
Presented by IREC President/CEO Jane Weissman
Marcy Drummond is a visionary. She has transformed U.S. secondary and postsecondary education. As a vice president at Los Angeles Trade-Technical College, she introduced the country to the green competency model charting realistic career and skill pathways in the clean energy sector. While at the Gates Foundation, she challenged IREC to go beyond our current thinking regarding credentials. For sharing her wisdom with us, IREC is delighted to give Marcy an Action Hero Award.
Benjamin Goldstein is a trailblazer. He has raised the bar to a higher standard for the energy efficiency workforce. As a leading voice at the U.S. Department of Energy for energy efficiency, Benjamin moved the country forward by developing technical and competency standards that hold contractors and training programs accountable. Benjamin's wise navigation enabled complex credentialing elements to be embedded in the clean energy sector in America. We gladly give Benjamin IREC's Action Hero Award.
Anya Schoolman makes things happen. As the executive director of the Community Power Network and the founder of DC Solar United Neighborhoods, Anya is making rooftop solar power accessible and affordable. She has helped more than 700 households in the Washington, DC area go solar, and that number only continues to grow. For expanding solar access to low-income households in the DC area and the model it serves for the rest of the country, we consider Anya an Action Hero.
Kathy Swartz is a quiet giant of a leader. Her steady resolve to achieve excellence in training is the reason Kathy is an IREC Action Hero. As the executive director of Solar Energy International, she has proven that quality training pays off. IREC has worked with Kathy for many years and her leadership and expertise as part of the Solar Instructor Training Network spread success throughout the country.
Featured Product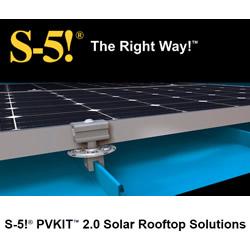 The concept of combining PV arrays with standing seam metal roofing is growing-for good reasons. Metal roofs have a life expectancy of more than 40 years. Shouldn't the mounting system last as long? With S-5! zero-penetration attachment technology and PVKIT 2.0, the solarized metal roof is the most sustainable system available -and without compromising roof warranties! PVKIT 2.0 is the also the best solution for attaching PV modules directly to any exposed fastener metal roof.