The Northern and Central California SunShot Alliance today announced plans to construct and interconnect rooftop solar systems in one day or less.
SAN FRANCISCO--The Northern and Central California SunShot Alliance today announced plans to construct and interconnect rooftop solar systems in one day or less, an unprecedented goal given the industrys current average of 30 days. In a contest sponsored by the U.S. Department of Energy SunShot Initiative, teams made up of local governments, solar and technology companies, and electric utilities will compete for a total of $10 million in cash prizes that will go back into local communities.

The alliance, which includes Pacific Gas and Electric Company, SolarCity, Qado Energy, Accela and the City of Livermore, will compete in the small systems category (1 - 100 kW) for a first-place prize of $3 million and second-place prize of $1 million. The potential winnings would be split between the City of Livermore and possibly other jurisdictions that will use the funds to enhance the solar experience in their communities. The alliance is also eligible for the Change Prize Award of $100,000, which will be used to develop necessary technologies and recruit additional jurisdictions to join the team.
Despite exceptional cost reductions for solar hardware over recent years, the "going solar" experience in many parts of the country can be long and arduous due to inefficient processes and complex administrative obstacles. Sponsored by the SunShot Initiative, the "SunShot Prize: Race to 7-Day Solar" competition aims to spur innovation and improvements in the solar implementation process. Teams will be judged on their ability to improve process certainty and reduce the "permit-to-plug-in" time from the current duration to a swift seven days for small systems.
Members of the Northern and Central California SunShot Alliance have excellent track records in efficient solar installation and software innovation, making the collective group a strong contender for the national prize. PG&E interconnects more than 5,000 rooftop solar systems per month with an average cycle time of less than five days. SolarCity crews are repeatedly able to install rooftop solar systems in less than one day. Accela is the leading provider of permitting and inspection technology and has helped local governments decrease solar permit processing time by 75 percent. And Qado Energys integrated platform helps streamline solar interconnection while ensuring process transparency and efficient fulfillment.
The performance period for the competition begins on Sept. 22, 2015, and concludes on March 17, 2017. The winning teams will be announced on June 26, 2017.
Supporting Quotes:
"With more than 180,000 solar rooftops in our service area, PG&E understands that solar power is a vital part of our countrys energy future. Weve worked hard to become the nations leading utility for customers using solar systems. Through close coordination with our partners, our goal for this competition is to dramatically improve the 'going solar process so that more Americans can take advantage of this valuable resource," said Laurie Giammona, senior vice president and chief customer officer, PG&E.
"Rooftop solar can grow even faster across America if we can improve local permitting and interconnection. Regardless of who wins, we believe this contest will demonstrate that compliance with permit streamlining requirements in AB 2188, approved by the Legislature last year and effective on September 30, 2015, is achievable and that means making it even easier and less expensive to go solar," said Nick Armstrong, a regional vice president at SolarCity.
"This is a unique opportunity to work closely with government and industry partners to greatly improve the solar experience—from permitting to installation. Accelas technology has a proven track record of dramatically reducing the solar permitting and inspection timeline. This saves solar companies and their customers time and money. Were excited to work with motivated local governments and our team of industry leaders to further revolutionize the end-to-end process and cycle times for rooftop solar installations," said Maury Blackman, president and CEO, Accela.
"Qado Energy is excited to bring its software platform, GridUnityTM, and expert team to this extraordinary alliance of industry innovators and leaders. We see this effort aligning with our companys goal of supplying utilities the advanced technology they need to provide highly responsive customer service along with the next generation distribution system analytics software necessary to streamline, automate and reduce the cost of interconnecting distributed energy resources across our nations grids," said Brian Fitzsimons, CEO, Qado Energy.
"Livermore is already one of the leading jurisdictions in Northern California in per capita rooftop solar installations and timely, effective processes for plan approval and project inspection. The SunShot Prize competition will allow our staff and partners to collaboratively leap forward to new levels in solar installation speed and efficiency in order to improve the customer experience and save resources," said Marc Roberts, city manager, City of Livermore.
About the SunShot Initiative
The U.S. Department of Energy SunShot Initiative is a collaborative national effort that aggressively drives innovation to make solar energy fully cost-competitive with traditional energy sources before the end of the decade. Through SunShot, the Energy Department supports efforts by private companies, universities, and national laboratories to drive down the cost of solar electricity to $0.06 per kilowatt-hour. Learn more at energy.gov/sunshot.
About PG&E
Pacific Gas and Electric Company, a subsidiary of PG&E Corporation (NYSE:PCG), is one of the largest combined natural gas and electric utilities in the United States with one in four U.S. rooftop solar customers in its service area. Based in San Francisco, with more than 20,000 employees, the company delivers some of the nations cleanest energy to nearly 16 million people in Northern and Central California. For more information, visit www.pge.com/ and www.pge.com/en/about/newsroom/index.page.
About SolarCity
SolarCity (NASDAQ: SCTY) provides clean energy. The company has disrupted the century-old energy industry by providing renewable electricity directly to homeowners, businesses and government organizations for less than they spend on utility bills. SolarCity gives customers control of their energy costs to protect them from rising rates. The company makes solar energy easy by taking care of everything from design and permitting to monitoring and maintenance. SolarCity currently serves 19 states. Visit the company online at www.solarcity.com and follow the company on Facebook & Twitter.
About Accela
Accela provides cloud-based civic engagement solutions for government. Accela's Civic Platform, which includes open APIs and mobile apps, enables and improves core processes for city, county, state and federal governments. Accelas solutions uniquely address the diverse needs of their constituents by making publicly available information more accessible. The Accela Civic Platform includes solutions for land management, asset management, licensing and case management, legislative management and more. Accela serves more than 2,000 customers worldwide. The company is headquartered in San Ramon, California, with offices in San Francisco, New York, Portland, Melbourne and Dubai. For more information, visit www.accela.com.
About Qado Energy
Qado Energy is the utility industry innovator in highly responsive customer service and predictive distribution system analytics. Qado Energys GridUnityTM automates and streamlines utilities responsiveness through a unique two-way portal, accelerating fulfillment of a host of customer services -- interconnection requests are answered and DER placement information is provided in just seconds. GridUnity is revolutionizing the utility industry by enabling real-time decision making from the customer to the executive suite. For more information, visit www.qadoenergy.com. The company is headquartered in Summit, New Jersey, with offices in Boston and Portland.
About the City of Livermore
Incorporated in 1876, the City of Livermore (www.cityoflivermore.net) is the easternmost city in the San Francisco Bay Area. With just over 85,000 residents, Livermores heritage is an eclectic blend of wine-making, cattle ranching and agriculture, cultural arts, and cutting edge technology. The citys renowned reputation in science, technology and innovation is showcased at Sandia National Laboratories and the Lawrence Livermore National Laboratory which has been internationally recognized for its work in discovering Element 116 on the Periodic Table - Livermorium. The San Francisco Premium Outlets on Interstate-580 and the citys award-winning downtown provide a wide range of shopping, dining, and entertainment opportunities for residents and visitors alike.
Featured Product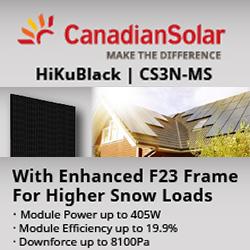 Aesthetic appearance for residential systems: With black backsheet & black frame, Power range 380 ~ 405 W, Low power loss in cell connection. Enhanced reliability: · Low temperature coefficient (Pmax): -0.34 % / °C, LID LeTID less than 2.0%, Lower hot spot temperature, Better shading tolerance.