Speaking ahead of his forthcoming CWIEME Chicago seminar, NEMA's deputy chief economist, Timothy Gill, has revealed the construction sector as the new major growth driver in the North American electrical manufacturing industry.
Despite having emerged from the Great Recession more than six years ago, growth in the US economy is still subdued, casting a shadow of uncertainty over the homegrown electrical manufacturers and component suppliers gathering at this years CWIEME Chicago exhibition, October 6-7. Where to invest time and resources in business development and where to hold back are, therefore, important questions that the shows organizers aim to help answer in an opening keynote seminar by the National Electrical Manufacturers Associations (NEMA) deputy chief economist, Timothy Gill. NEMA carries out vast amounts of market research and analysis for the benefit of its members, and its forecasts for the US economy have even been cited by The Wall Street Journal as among the most accurate around.

"Economic growth in the years since the recession ended in 2009 has been much slower than in previous recoveries - and disparities have developed among the various end-use sectors that manufacturers need to be aware of," Gill says. "For example, the industrial sector, which purchases electrical equipment both as an input to other manufactured goods, as well as for the automation of manufacturing processes, bounced back relatively well in the early days of recovery. This was good news for suppliers of equipment, such as motors, industrial controls and certain types of transformers - but more recently the pace of growth has slowed considerably."
Gill cites several factors in the volatility of the industrial sector since then. These include a weak demand for US exports due to the strong dollar and a slow global economy with crises in the Eurozone and China, as well as a clampdown on investments in oil and gas exploration and drilling in North America due to the recent decline in crude oil prices. But according to NEMAs forecasts, it is not all doom and gloom for electrical equipment suppliers.
Growth in sight
"Our sense is that we may be seeing the worst of it right now," Gill says. "Expectations are that oil prices, for instance, are not going to be able to hold at the low level they are now. Many analysts believe they will rise within a year or two, which would help thaw the freeze on investment in that sector. Theres also a widespread view that global economic growth will soon improve. We certainly dont expect to see boom times, but we do see industrial production growing at a stronger pace over the next few years."
In the meantime, the construction sector appears to be taking over from the industrial manufacturing sector as the strongest market for electrical equipment.
"There have been fits and starts in the housing recovery, but activity has been trending slowly upwards for some time now," he says. "The US labor market has been improving, the household debt that accumulated during the boom before the recession is decreasing, and many households have finally cleared their poor credit ratings due to foreclosure."
NEMAs analysis shows that the pace of household formation, although still low by historical standards, is starting to improve, with the millennial generation, previously hampered by school debt and poor job prospects, finally getting a foothold on the property ladder.
As for the non-residential construction sector, NEMA is pleased to report a "boomlet" in the construction of office and retail space, as well as certain types of manufacturing facilities.
"Another big driver for electrical products is expected to be construction in the hospital and healthcare sector. Growth in this 'electrical-intensive area has been modest recently but we expect it to pick up going forward as an aging population requires greater access to healthcare," Gill says.
"Other opportunities are to be found in the supply of energy-efficient products, driven by the increasing use of renewable energy and developments in smartgrid and microgrid projects."
New channel for NEMA market analysis
Gill will be discussing these points and more at his CWIEME Chicago seminar, entitled "Growing pains? Exploring the faltering path to growth for the US economy and its impact on the electrical manufacturing industry," on October 6 at 10:30am. Gills session is the first in a program of free educational seminars and workshops over the two-day exhibition, designed to provide guidance on market conditions affecting strategic planning, as well as solutions and developments in response to technical challenges.
"With so many NEMA members in attendance at CWIEME Chicago, I see my participation as a way to reach them in a new venue. Im delighted to have this chance to share our analysis of electrical equipment markets." he says.
"We are thrilled to have Mr. Gill joining us on the first day of our CWIEME Connect seminar program," says Chloe Theobald, content manager for the global CWIEME exhibition series. "The deep market insights he can offer as a NEMA economist are invaluable for manufacturers and material and component suppliers from across the electrical manufacturing landscape. His seminar this October is an opportunity not to be missed."
CWIEME Chicago - North Americas most comprehensive showcase for the coil winding and electro-magnetic industry
Dates and opening times: Tuesday October 6 2015 - 10am to 5:30pm
Wednesday October 7 2015 - 10am to 5pm
Venue: Donald E. Stephens Convention Center, Chicago
Admission: Free until Friday October 2, after which an onsite registration fee of $40 will apply for those who have not already registered online.
Featured Product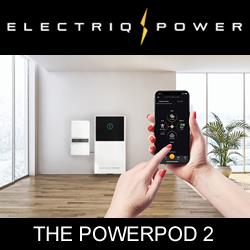 The Electriq PowerPod 2 is a fully-integrated home energy storage, management, and monitoring system powered by LFP batteries. The high-performance, cobalt-free product includes a hybrid solar/battery inverter controlled by intelligent software. The PowerPod 2 provides backup power and can self-consume or export excess power back to the grid.