The new SR20-D2 and SR22 pyranometers are made for solar radiation measurement experts, respectively in PV monitoring systems and climatological networks. SR20-D2 is highly accurate and offers two types of irradiance outputs: digital via Modbus RTU and analogue 4-20 mA. SR22 pyranometer has high-quality quartz domes, with a spectral range covering the full solar spectrum.
Hukseflux, a leading manufacturer of sensors for solar radiation measurement, has introduced both the SR20-D2 and the SR22 pyranometer.

SR20-D2 is an upgrade of the successful SR20-D1 secondary standard pyranometer. SR20-D2 is made for the solar PV industry, offering two types of irradiance outputs: digital via Modbus RTU over RS-485 and analogue 4-20 mA (current loop). These industry standards allow for easy data acquisition, easy read-out and error-free instrument exchange, when using SR20-D2. Individually tested for temperature and directional response, SR20-D2 is the most accurate digital secondary standard pyranometer available.
Like SR20-D2, SR22 is a solar radiation sensor of the highest category in the ISO 9060 classification system for pyranometers: secondary standard. SR22 has domes made of high-quality quartz, resulting in an extended spectral range. Covering the full solar spectrum, SR22's extended spectral range potentially offers lower measurement- and calibration uncertainties compared to pyranometers with glass domes. SR22 is typically used with ventilation unit VU01 in high-accuracy climatological networks.
Hukseflux is a leading manufacturer, both in technology and market share, of pyranometers, pyrheliometers, pyrgeometers, net radiometers and albedometers. The ISO 9001 certified company, based in Delft, the Netherlands, produces a complete range of solar and longwave radiation sensors, compliant with the latest ISO and WMO standards. Each Hukseflux pyranometer is classified as ISO 9060 secondary standard, first class, or second class, and offers the best measurement accuracy in its class. Pyranometer output is analogue, 4-20 mA, and/or digital. Hukseflux' customers are active in the following fields: solar energy, photovoltaic (PV) industry, meteorology and climatology, and served through the main office in the Netherlands and locally owned representations in the USA, Brazil, India, China and Japan. These offices offer full support and calibration services.
Visit www.hukseflux.com for more information on expert solar and longwave radiation measurement.
Featured Product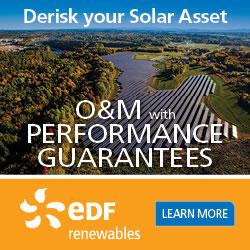 EDF Renewables offers the same innovative solutions that maximize the performance of our own 5.2 GW of installed projects. Because we're not an equipment manufacturer, our recommendations are transparent and data-driven. We cover the entire project lifecycle: from pre-commissioning support, through warranty and post warranty operation, to late stage and decommissioning.