Contract is SolarWorlds largest for a single project
HILLSBORO, Ore., Sept. 22, 2015 - SolarWorld - the largest U.S. crystalline silicon solar manufacturer for 40 years, with well over 1 gigawatts of annual production capacity to its name - announced today that the company and Panasonic Enterprise Solutions Co., a division of Panasonic Corp. of North America, have signed an agreement for SolarWorld to supply 65 megawatts of the companys high-efficiency, 72-cell solar panels for a solar farm planned in remote southeast Oregon. The contract, to be fulfilled in 2016, encompasses the largest single project supply in the companys history.

Terms of the agreement were reached at Solar Power International, the largest annual solar-industry trade show in the Americas, last week at the Anaheim (Calif.) Convention Center. Panasonic Enterprise Solutions will construct, own and operate the facility in a Malheur County Rural Renewable Energy Development Zone.
"This agreement once again demonstrates the value that SolarWorlds technology holds for owner-operators who depend on the enduring reliability and performance of its products," said Ardes Johnson, U.S. vice president for sales and marketing. "As a major world producer with headquarters for the Americas located in Oregon, our success in securing this agreement shows that we are fulfilling Oregons faith in our company to compete on value amid fierce international competition while growing the Oregon economy."
The agreement comes in the 40th anniversary of the companys U.S. industrial lineage. As a group of companies, SolarWorld has supplied a 50-megawatt contract at an undisclosed location in Central Asia. In the Americas, the company supplied a 33-megawatt project in southeast Ontario, Canada. Moreover, SolarWorld is actively delivering solar panels for multiple large projects across the United States.
Panasonic Corp. of North America, based in Newark, N.J., is a subsidiary of Panasonic Corp., based in Osaka, Japan.
About SolarWorld REAL VALUE: SolarWorld manufactures and sells high-tech solar power solutions and, in doing so, contributes to a cleaner energy supply worldwide. The group, headquartered in Bonn, Germany, employs about 3,500 people and carries out production in Freiberg, Germany; Arnstadt, Germany; and Hillsboro, Oregon, USA. From raw material silicon to solar wafers, cells and modules, SolarWorld manages all stages of production ‒ including its own research and development. Through an international distribution network with locations in the United States, Europe, Singapore, Japan and South Africa, SolarWorld supplies customers all over the world. The company maintains high social standards at all locations across the globe, and it has committed itself to resource- and energy-efficient production. SolarWorld was founded in 1998 and has been publically traded on the stock market since 1999. Connect with SolarWorld on Facebook, Twitter and www.solarworld.com.
Featured Product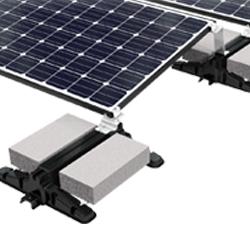 The Power Rail™ Commercial Mounting System is designed with the professional PV solar installer in mind. Both the XD/UD and LD/MD rails feature single tool assembly with the revolutionary patented RAD™ Lock-in-Place bolt for fast and secure module clamping. The high strength marine-grade aluminum rails include an integral wiring channel for securing cables and providing a professional finish.