Latest SolarWindow products to turn existing commercial glass on tall towers into electricity generating windows -- no replacement required.
COLUMBIA, Md.--SolarWindow Technologies, Inc. (OTCQB: WNDW), a leading developer of first-of-their-kind transparent electricity-generating coatings, today announced that the companys latest products will be engineered as transparent, tinted, flexible veneers that installers can apply directly over top of existing windows on tall towers and skyscrapers. This expanded product line broadens the companys market reach beyond new and replacement installations, to include windows currently installed on the estimated five million commercial buildings constructed in the U.S. alone.

Todays product expansion announcement follows the successful unveiling of SolarWindow working prototypes for new construction and replacement windows, only weeks earlier. These latest retrofit systems will be developed in addition to the SolarWindow products already under commercialization.
"Our latest goal is to augment installation of SolarWindow products in the new construction market with retrofits for existing buildings," said John A. Conklin, President and CEO of SolarWindow Technologies, Inc. "Since commercial buildings account for 35% of all electricity consumed, this market opportunity is especially significant for all of our stakeholders. We want to constantly push the boundaries with our liquid, electricity-generating coatings."
SolarWindow achieves the industrys fastest published financial payback of less than one year as validated by a team of independent engineers and at the University of North Carolina Charlotte Energy Production and Infrastructure Center (UNCC-EPIC).
Engineers envision installing SolarWindow products on all four sides of tall towers, generating electricity using natural, shaded, and even artificial light. Conventional solar does not work in shaded areas or perform under artificial light. As a result, SolarWindow™ modules outperform todays rooftop solar by as much as 50-fold more energy generated when modeled for installation on a 50-story building.
A single installation of the companys SolarWindow technology is calculated to avoid 2.2 million miles of vehicle pollution, at least 12-times more than todays solar systems on building rooftops; and could reduce carbon emissions equivalent to 770 acres of forest, compared to todays rooftop (PV) systems equivalent to only 20 to 70 acres of forest, according to engineers.
Todays milestone announcement comes on the heels of the companys August 20, 2015 webcast that revealed for the first time its revenue, industry partnership, and build-out strategy for bringing SolarWindow products to market. The event featured SolarWindow and industry experts discussing the companys technology objectives, commercialization path, recent technological advances, logistical challenges, and breakthroughs. Click here to view the complete webcast.
About SolarWindow Technologies, Inc.
SolarWindow Technologies, Inc. is a developer of next generation, transparent electricity-generating SolarWindow coatings.
SolarWindow coatings generate electricity on see-through glass and flexible plastics with colored tints popular to skyscraper glass. Unlike conventional systems, SolarWindow can be applied to all four sides of tall towers, generating electricity using natural and artificial light conditions and even shaded areas. SolarWindow uses organic materials, which are dissolved into liquid, ideal for low-cost high-output manufacturing; and is the subject of a patent pending technology.
The companys Proprietary Power Production & Financial Model (Power & Financial Model) uses photovoltaic (PV) modeling calculations that are consistent with renewable energy practitioner standards for assessing, evaluating and estimating renewable energy for a PV project. The Power & Financial Model estimator takes into consideration building geographic location, solar radiation for flat-plate collectors (SolarWindow irradiance is derated to account for 360 degree building orientation and vertical installation), climate zone energy use and generalized skyscraper building characteristics when estimating PV power and energy production, and carbon dioxide equivalents. Actual power, energy production and carbon dioxide equivalents modeled may vary based upon building-to-building situational characteristics and varying installation methodologies.
Featured Product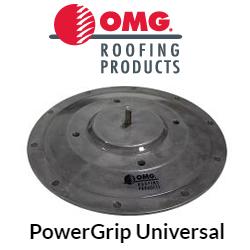 Eliminate Solar Rack Ballast and Reduce Rooftop Material Handling. PowerGrip™ Universal (PGU) is a commercial roof mount system designed to secure solar racks and other equipment to any type of commercial roofing system. PGU provides a secure connection directly to the roof deck or structural members and is designed to reduce or eliminate ballast in solar racking systems, so there's less weight on the roof and less material handling. Made of heavy-duty cast aluminum, PGU units include a base ring which is secured through the roofing cover and into the structural roof deck, and a waterproof top plate.