The agreements include 2016 delivery of ten (10) customized FCvelocity® modules and the agreements have an initial value expected to be approximately $6 million.
VANCOUVER, CANADA and QINGDAO & FOSHAN, CHINA -At a ceremony held at the Companys global headquarters, Ballard Power Systems (NASDAQ: BLDP; TSX: BLD) signed a joint development agreement and a supply agreement to develop and commercialize a fuel cell engine specifically designed for integration into low floor trams manufactured by CRRC Qingdao Sifang Company, Ltd. (CRRC Sifang), a Chinese rolling stock manufacturer. The agreements include 2016 delivery of ten (10) customized FCvelocity® modules and the agreements have an initial value expected to be approximately $6 million.

Ballard plans to develop a new prototype configuration of its FCvelocity® fuel cell module to deliver 200 kilowatts (kW) of net power for use in powering trams in urban deployments. An initial deployment of eight (8) fuel cell-powered trams is planned by CRRC Sifang and the City of Foshan on the Gaoming Line starting in 2017.
"We are pleased with the strong relationship we are developing with CRRC Sifang, a company with a rich history of innovation in Chinese rail transit, to pursue the China market opportunity for fuel cell powered trams," said Randy MacEwen, Ballards President and CEO.
CRRC Sifang, based in Qingdao, Shandong province was established more than 100-years ago, in 1900. CRRC Sifang has a yearly production capacity of 200 high-speed electric multiple units (EMUs), 1,000 mass transit vehicles and 300 high-grade passenger cars. In March 2015, a Ballard fuel cell module powered the worlds first hydrogen fuel cell powered fixed rail electric tram that was successfully demonstrated at a ceremonial event held at CRRC Sifangs head office, production and testing facility.
Mr. Luo Bin, Deputy President of CRRC Qingdao Sifang Company stated, "Clean urban transportation is a high priority in China. Our collaboration with Ballard to develop a purpose-built engine for our low floor tram, and the initial planned deployments in Foshan, position us well for this attractive opportunity. Ballard is our chosen partner for fuel cell technology because they have leading fuel cell expertise, experience, capabilities and a focus on safety, reliability and quality."
Mr. Xu Guo, Vice Mayor of the City of Foshan/Yunfu added, "Our planned move toward clean mass transit technology is being accelerated with this announcement of fuel cell-powered trams as well as our announcement of 300 fuel cell powered buses in Foshan/Yunfu. We have confidence that the consortium partners, including Ballard and CRRC Sifang, will effectively deliver ground-breaking solutions for the benefit of our Chinese citizens."
Alfred Wong, Ballards Director - Sales for Asia Pacific said, "Our ground-breaking announcement a few days ago regarding a deal to support deployment of 300 fuel cell buses in the Cities of Foshan and Yunfu, together with todays announcement of an initial order supporting deployment of 8 fuel cell trams in the City of Foshan provide concrete evidence that Ballards customer-centric China strategy is moving toward an unparalleled level of industry success."
Further discussion of Ballards activities and plans in the heavy-duty mass transit market will take place during the Companys Investor and Analyst Day, scheduled to be held on October 1, 2015 in New York City. Institutional investors wishing to attend are asked to register as soon as possible, as space is limited, by emailing Ballard at analystday@ballard.com. Ballards Investor and Analyst Day will also be webcast, with the live audio stream and presentation materials accessible through a link on Ballards homepage at www.ballard.com. Following the event, the webcast and presentation materials will be archived in the Investors section of Ballards website at www.ballard.com/investors.
About Ballard Power Systems
Ballard Power Systems (NASDAQ: BLDP; TSX: BLD) provides clean energy products that reduce customer costs and risks, and helps customers solve difficult technical and business challenges in their fuel cell programs. To learn more about Ballard, please visit www.ballard.com.
This release contains forward-looking statements concerning planned product development efforts, product deployments and anticipated market demand for our products. These forward-looking statements reflect Ballards current expectations as contemplated under section 27A of the Securities Act of 1933, as amended, and Section 21E of the Securities Exchange Act of 1934, as amended. Any such forward-looking statements are based on Ballards assumptions relating to its financial forecasts and expectations regarding its product development efforts, manufacturing capacity, and market demand.
These statements involve risks and uncertainties that may cause Ballards actual results to be materially different, including risks related to our ability to develop and commercialize our products, risk of market acceptance of our products, general economic and regulatory changes, detrimental reliance on third parties, successfully achieving our business plans and achieving and sustaining profitability. For a detailed discussion of these and other risk factors that could affect Ballards future performance, please refer to Ballards most recent Annual Information Form. Readers should not place undue reliance on Ballards forward-looking statements and Ballard assumes no obligation to update or release any revisions to these forward looking statements, other than as required under applicable legislation.
This press release does not constitute an offer to sell or the solicitation of an offer to buy securities. The Ballard Common Shares have not been registered under the United States Securities Act of 1933, as amended, or the securities laws of any other jurisdiction and may not be offered or sold in the United States absent registration or an applicable exemption from registration requirements.
Further Information: Guy McAree +1.604.412.7919, media@ballard.com or investors@ballard.com
Featured Product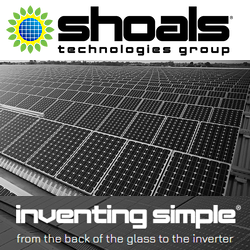 Inventing Simple® isn't just a slogan to us, it's a way of life. Using simple plug-and-play ideology, we revolutionized solar installations in 2003 with our Interconnect System™. Our harnessing system is now the gold standard EPC's use around the world. By using simple ideas, we are making solar energy a more affordable and clean power source for future generations.