Program encourages environmental protection and understanding of alternative energy at 1,500 schools
Kyocera Corporation (President: Goro Yamaguchi) announced today that its environmental protection-themed "Eco-Lessons" — part of the company's Corporate Social Responsibility (CSR) activities — have reached more than 100,000 students at 1,500+ primary schools in Japan and China.

The Eco-Lessons, which are being taught by over 200 specially-trained Kyocera Group employees, incorporate original experimentation kits and toys utilizing solar cells, a fun quiz, and other interactive activities in the hope of helping children deepen their understanding of environmental and energy issues. Kyocera Group employees take a special in-company training course to learn about the purpose of the Eco-Lessons and teaching methods before going to the schools. The basic type of Eco-Lesson is 90 minutes long and aimed mainly at children aged 9-12.
The evolution of the current Eco-Lesson program began when Kyocera constructed its new global headquarters building in Kyoto, Japan in 1998 with a large-scale solar power generating system consisting of 1,896 solar panels. At the time, many local schools would request to visit the facilities and showroom displays on field trips to learn about solar power. In response to the level of public interest, and with the cooperation of an environmental education course for primary school students that was being run by the Kyoto Chamber of Commerce and Industry, Kyocera took the initiative to proactively offer environmentally themed classes at local schools in February 2003. Since then the lessons have spread across Japan, and the program was also introduced in China in April 2009.
"I feel really privileged to be involved in nurturing children who will be the leaders of the next generation," said Sanae Kuroda, Kyocera employee engaged in the Eco-Lesson program as a lecturer. "I sincerely hope that Kyocera's Eco-Lessons give children a chance to think about the environment."
Kyocera will continue to offer the Eco-Lessons in order to enhance children's awareness of environmental issues and interest in alternative energy, and to foster an eco-friendly perspective in the next generation.
About KYOCERA
Kyocera Corporation (NYSE:KYO)(TOKYO:6971) (http://global.kyocera.com/), the parent and global headquarters of the Kyocera Group, was founded in 1959 as a producer of fine ceramics (also known as "advanced ceramics"). By combining these engineered materials with metals and integrating them with other technologies, Kyocera has become a leading supplier of solar power generating systems, mobile phones, printers, copiers, electronic components, semiconductor packages, cutting tools and industrial ceramics. During the year ended March 31, 2015, the company's net sales totaled 1.53 trillion yen (approx. USD12.7 billion). Kyocera appears on the latest listing of the "Top 100 Global Innovators" by Thomson Reuters, and is ranked #552 on Forbes magazine's 2015 "Global 2000" listing of the world's largest publicly traded companies.
Featured Product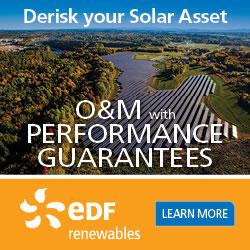 EDF Renewables offers the same innovative solutions that maximize the performance of our own 5.2 GW of installed projects. Because we're not an equipment manufacturer, our recommendations are transparent and data-driven. We cover the entire project lifecycle: from pre-commissioning support, through warranty and post warranty operation, to late stage and decommissioning.