The Longhorn Project, located in Floyd and Briscoe counties, is comprised of 100 Vestas V-100 wind turbine generators each with a rated capacity of 2 MW.
SAN DIEGO & NEW YORK--EDF Renewable Energy (EDF RE) has closed on the transaction to sell a 50 percent interest in the 200 megawatt (MW) Longhorn Wind Project to a fund managed by BlackRock's Infrastructure Investment Group ("BlackRock Infrastructure"). Longhorn Wind follows the closing of Hereford Wind Project (200 MW) in February, marking the second of five projects that BlackRock and EDF Renewable Energy signed agreements on earlier this year. The remaining three projects, Spinning Spur 3 (194 MW), Roosevelt (250 MW) and Milo (49.65 MW) wind projects, will close upon completion of construction and tax-equity financing.

The Longhorn Project, located in Floyd and Briscoe counties, is comprised of 100 Vestas V-100 wind turbine generators each with a rated capacity of 2 MW. The Project will interconnect to the recently completed Competitive Renewable Energy Zone (CREZ) transmission infrastructure which enables delivery of long-term, clean, competitively priced power from the strong renewable resource regions of West Texas to the rest of Texas.
EDF RE remains closely involved in Longhorn Wind maintaining 50 percent ownership stake. EDF Renewable Services, the leading provider of renewable operations and maintenance services in North America, will provide balance-of-plant operations and maintenance for the facility including 24/7 remote monitoring from its NERC compliant Operations Control Center (OCC).
Raphael Declercq, Vice President Portfolio Strategy at EDF Renewable Energy stated, "With the recent signing of two additional 50 percent sales regarding the New Mexico projects of Roosevelt and Milo, EDF RE has committed 50 percent stakes in 894 MW of US wind energy projects to BlackRock since the start of 2015. Those partial sell-downs are an integral part of our divestiture business line. During the past 3 years, we have placed into service 3.1 GW and over the same period of time we sold stakes equivalent to approximately 1.3 GW of net capacity."
"We are pleased to partner with EDF Renewable Energy to add the Longhorn Wind to our global renewables portfolio," said Jim Barry, Global Head of BlackRock Infrastructure.
"The North American renewable infrastructure market presents tremendous opportunity for our clients and we look forward to growing our relationship with EDF Renewable Energy," said David Giordano, head of the North American Renewable Infrastructure team at BlackRock Infrastructure. "This project is a great example of the growing set of investment opportunities in US infrastructure."
BlackRock operates one of the largest renewable power investment platforms in the world with over $1.5 billion of AUM and commitments. The Longhorn project is the 16th transaction completed to date by BlackRock Infrastructure in the renewables space, bringing the total invested portfolio to approximately 615 MW of wind and 178 MW of solar projects located across the USA, Canada, Ireland, UK and France.
Longhorn's clean megawatts will generate enough electricity to power approximately 55,000 homes - according to US Environmental Protection Agency methodology - avoiding approximately 375,000 metric tons of greenhouse gas emissions per year, the equivalent of the annual emissions from approximately 80,000 passenger vehicles.
About EDF Renewable Energy:
EDF Renewable Energy is a leading U.S. independent power producer with more than 25 years of expertise in the renewable industry, covering all range of services from project development, management to operations and maintenance. EDF Renewable Energy specializes in wind and solar photovoltaic with presence in other segments of the renewable energy market: biogas, biomass, hydro, marine energy and storage solutions. The company develops, constructs, operates and manages renewable energy projects throughout the United States for its own accord as well as for third parties. EDF Renewable Energy's North American portfolio consists of 6 gigawatts of developed projects with 3.2 gigawatts of installed capacity throughout US, Canada, and Mexico. EDF Renewable Energy is a subsidiary of EDF Energies Nouvelles. EDF Energies Nouvelles is the renewable energy arm of the EDF group, the leading electricity company in the world. For more information visit: www.edf-re.com
Featured Product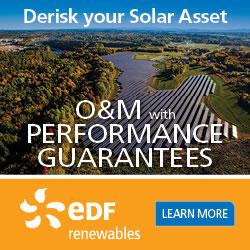 EDF Renewables offers the same innovative solutions that maximize the performance of our own 5.2 GW of installed projects. Because we're not an equipment manufacturer, our recommendations are transparent and data-driven. We cover the entire project lifecycle: from pre-commissioning support, through warranty and post warranty operation, to late stage and decommissioning.