110 MW Quilapilún project to be one of the largest single-axis tracker installations in South America for 2015
NEXTracker Ships Leading Self-Powered Solar Trackers to SunEdison's Largest Project in Latin America

110 MW Quilapilún project to be one of the largest single-axis tracker installations in South America for 2015
FREMONT, CA, September 29, 2015 -Today NEXTracker™
, designer and manufacturer of the world's most advanced single axis PV trackers, announced it has completed a 110 megawatt (MW) DC shipment of its Self-Powered Tracker (SPT) to SunEdison's Quilapilún power plant in the Santiago metropolitan region of Chile. Once completed, the project will be SunEdison's largest in South America and the first such project in a densely populated urban region of the Southern Cone. The energy produced by the plant will supply the Sistema Interconectado Central (SIC) transmission system through a long-term power purchase agreement.
"NEXTracker and SunEdison have forged a highly effective collaboration that reinforces our position as a renewable energy development and technology leader in Latin America," said Carlos Barrera, SunEdison vice president for Latin America. "NEXTracker's energy yield and installation savings help us deliver clean energy at lower prices. Additionally, NEXTracker's design expertise and installation support services
help ensure faster completion of projects like the Quilapilún power plant."

"SunEdison is a visionary clean energy company that deploys gigawatts of renewable power projects around the world," noted Dan Shugar, NEXTracker CEO. "The collaboration between our companies is promising and we are proud to be a key partner for another Latin American project. Quilapilún represents a marvelous opportunity for NEXTracker to further demonstrate its industry-leading expertise in maximizing solar power plant capacity and performance."

NEXTracker's fewer foundations and assembly points help mitigate geotechnical risk and accelerate project construction schedules. With independent rows and high slope tolerance, NEXTracker minimizes site preparation costs while providing the flexibility to install up to 30% more PV per site. NEXTracker's enhanced construction tolerances, self-grounding and self-powered design provide valuable savings in labor and materials. The tracker's wide rotational range provides a significant energy yield gain and enables PV systems to take full advantage of high irradiance environments such as in Chile.

The Quilapilún solar plant is expected to generate 242 GWh of electricity a year, enough to power 117,000 homes. It's anticipated that it will eliminate the emission of more than 125,000 tons of carbon dioxide per year, the equivalent of removing 28,000 cars from Chilean roads.[1]

Watch aerial footage of two Chilean solar plants featuring the Self-Powered Tracker: video https://www.youtube.com/watch?v=HlDgvGx8Hlc .

About NEXTracker, Inc.
NEXTracker , designer and manufacturer of the world's most advanced single axis PV trackers, offers a significant breakthrough in horizontal tracking, with lower costs, better performance and more flexibility for ground-mounted solar power plants. These benefits increase solar project profits for developers, EPCs and system owners. Leveraging world-class design and installation expertise, NEXTracker has delivered trackers for projects across five continents. Headquartered in Fremont, California, NEXTracker is one of the fastest growing clean technology companies. Follow us on Twitter @NEXTracker .

About SunEdison
SunEdison is the largest global renewable energy development company and is transforming the way energy is generated, distributed, and owned around the world. The company develops, finances, installs, owns and operates renewable power plants, delivering predictably priced electricity to its residential, commercial, government and utility customers. SunEdison is one of the world's largest renewable energy asset managers and provides customers with asset management, operations and maintenance, monitoring and reporting services. Corporate headquarters are in the United States with additional offices and technology manufacturing around the world. SunEdison's common stock is listed on the New York Stock Exchange under the symbol "SUNE." To learn more visit www.sunedison.com.


Forward Looking Statements.
This communication contains forward-looking statements within the meaning of Section 27A of the Securities Act of 1933 and Section 21E of the Exchange Act. Forward-looking statements can be identified by the fact that they do not relate strictly to historical or current facts. All statements that address operating performance, events, or developments that are expected or anticipated will occur in the future are forward-looking statements. Forward-looking statements provide current expectations or predictions of future conditions, events, or results and speak only as of the date they are made. By their nature, forward-looking statements are subject to risks and uncertainties that could cause actual results to differ materially from those suggested by the forward-looking statements. The parties disclaim any obligation to publicly update or revise any forward-looking statement, except as required by law.




[1] SunEdison Press Release: July 28, 2015.

Featured Product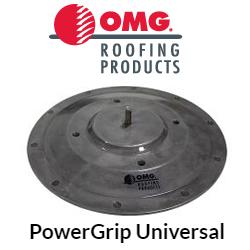 Eliminate Solar Rack Ballast and Reduce Rooftop Material Handling. PowerGrip™ Universal (PGU) is a commercial roof mount system designed to secure solar racks and other equipment to any type of commercial roofing system. PGU provides a secure connection directly to the roof deck or structural members and is designed to reduce or eliminate ballast in solar racking systems, so there's less weight on the roof and less material handling. Made of heavy-duty cast aluminum, PGU units include a base ring which is secured through the roofing cover and into the structural roof deck, and a waterproof top plate.