The Solar Auditor, a solar consultation and broker company, is proud to embark on an 18-month competition called the "Race to 7-day Solar." The Solar Auditor has teamed up with some of the best and brightest solar innovators in the Southern California region to reduce the time from permit to Permission to Operate (PTO) from over 80 days to a quick 7 days. If successful over the next 18 months, the team will win one of two grand prizes totaling $4 million by 2017.
Sponsored by the U.S. Department of Energy SunShot Initiative, the team will offer a wide range of services, products and software to make The Solar Auditor the most comprehensive solar broker and marketplace in the country. The team will also be offering leases for the industrys top of the line and cutting edge solar panels, including SunPower, through Restart Solar, and SunRun, through Repower Solar. High quality equipment ensures that consumers will experience higher solar energy production from their solar system.

"People who are considering going solar should know their ideal system size and potential savings before signing an installation contract. By beginning the process with accurate technical information and ensuring that the consumer is matched with an installation company that meets their needs, we not only reduce the time it takes to go solar, but also the stress on the consumer," says Andrew Thorry, Founder and President of The Solar Auditor.
"Andrew's ideas on how to help people go solar more efficiently are an excellent solution to the consumer problem. Advancements in the industry are moving very quickly, so buyers need a reliable source to guide them through the process. The Solar Auditor's marketplace is doing just that, " says Anita Bradbury, Founder and CEO of Simply Solar LLC.
The Solar Auditors team members include: Aurora Solar, CNG Solar Engineering, Fortune Energy, Financial Advisor Jaci Haas, Home Inspector John Buckley, Repower Solar, Restart Solar, Simply Solar, Skyfire, Solar Verified, SunStrong Structural, and Your SolarMate.
About the SunShot Initiative
Announced by Vice President Joe Biden at the Solar Power International 2015 conference in San Diego, the U.S. Department of Energy SunShot Initiative is a collaborative national effort that aggressively drives innovation to make solar energy fully cost-competitive with traditional energy sources before the end of the decade. Through SunShot, the Energy Department supports efforts by private companies, universities, and national laboratories to drive down the cost of solar electricity to $0.06 per kilowatt-hour. Learn more at energy.gov/sunshot.
About the Solar Auditor
Founded in May of 2014 by Andrew Thorry and his wife, Michelle Manos, The Solar Auditor is changing the way that people go solar. Andrew developed this new business model after working with large and small companies in the solar industry and discovering many discouraged solar shoppers and unhappy solar customers. His vision is to duplicate the streamlined process so that more people can go solar in whatever way best suits their individual needs, leading to more satisfied customers and increased growth in the solar industry.
Featured Product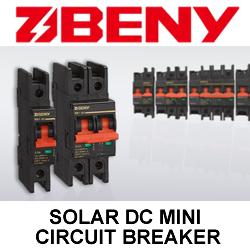 The BB1-63 modular miniature circuit-breakers can be used in solar DC circuits up to 1200 VDC (4-poles execution). Application in solar DC circuits, battery energy storage systems and UPS. Arc flash barrier design keeps solar equipment more safe and reliable. For DC circuit over-current protection.