Tracker commissioning approaches at the 20 MW California installation
Array Technologies, Inc. (ATI) has completed DuraTrack® HZ shipments to the 20 MW (ac) Maricopa West solar project for E.ON Solar, a subsidiary of E.ON SE, a global leader in energy solutions. Located in Kern County, California, the solar plant will benefit from reliable and proven performance of the DuraTrack HZ single-axis solar tracker, ensuring maximum onsite energy generation for the Maricopa West project.

To guarantee fast installation rates, ATIs engineering team designed the DuraTrack HZ to efficiently mount the projects 89,000 Jinko modules. In addition, ATIs project management team has been operating hand-in-hand with E.ON to provide logistics and installation support throughout the three-month build. In order to ensure reliable performance and maximum uptime over 30 years, the flexibly linked tracker blocks have been configured to minimize the number of potential failure points per MW, such as motors and controllers.
"E.ON brings a long and successful history of renewable development, ownership and operational experience to the table," said Thomas Conroy, president of Array Technologies. "We look forward to partnering with E.ON in the future to advance solar energy initiatives in the U.S. and around the world."
The DuraTrack HZ tracking system at Maricopa West is slated to be commissioned as early as October with site interconnection scheduled shortly thereafter.
This isnt E.ONs first project with ATIs DuraTrack HZ single-axis horizontal tracker. The two companies worked together on the 20 MW (ac) Alamo Solar Park, which E.ON recently sold to Dominion, one of the largest U.S. producers and transporters of energy. Alamo Solar Park is located near the town of Oro Grande, California, and was completed in 2014.
Featured Product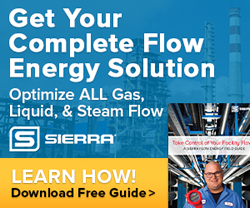 Download Flow Energy Guide - Written by Engineers For Engineers. Learn how to save on energy costs by optimizing your facility flows that impact costs like compressed air, natural gas, steam, and hot or chilled water.