Lens, RadianGen's internal software platform, is now available to solar professionals
San Francisco, California October 20, 2015 -- Radian Generation, an industry-leading provider of asset management services for renewable energy projects, has announced the availability of its internal software platform, Lens™, for use by solar investors wishing to take advantage of professional asset management practices using in-house staff.

While still offering comprehensive asset management and O&M services for solar projects throughout North America, Radian Generation is making Lens available to expand the use of best practices and improve returns on solar investments throughout the industry. The software tool centralizes technical operations, financial reporting, and contract compliance tasks in a comprehensive, scalable database available from any web-enabled device. The software has been available internally and to select clients of Radians asset management services and will now be available as a stand-alone product.
As former solar project developers and owners, the founders of Radian Generation identified an industry need for professional asset management services so investors can grow and manage their portfolios. Solar and wind developers are also choosing to retain ownership stakes in their projects to enjoy long-term, stable cash flow.
"We want to see solar continue to accelerate," says RadinGen CEO Chad Sachs. "That will only happen if risks are managed appropriately and industry-wide returns remain strong as projects age."
The Lens platform brings together three different areas of asset management — operations, compliance, and financial — providing a single, comprehensive view of performance.
The technical operations components automatically captures performance data from select data acquisition platforms. Weather data is then used to calculate expected production levels for the current conditions, and trouble tickets are automatically created if production falls outside of acceptable bounds. Tickets can be managed and tracked internally or assigned to third-party O&M vendors for resolution.
The second area of emphasis is on regulatory and contractual compliance items, ensuring that necessary tasks are performed on time over the life of the project. This covers a wide range of obligations embedded within the project, debt, or equity agreements, ranging from making lease and insurance payments to meeting debt covenants, applying PPA escalators, and executing contract extensions. Lens tracks all of these tasks and manages the associated documents that govern the project.
Finally, the third area of asset management addressed by Lens is financial reporting, including real-time views of month-to-date performance against financial forecasts and monthly reports available at the click of a button. Results are traceable back to the raw data, providing banks and investors with confidence in the results. The single registry of project assets also simplifies warranty claims and identifies potential risks from over-dependence on a few vendors.
Renewable Energy Trust Capital Inc. (RET Capital) utilizes Lens for both solar and wind assets. RET Capital creates predictable and profitable revenue streams from an array of long-term energy-generating assets, and Lens™ organizes the numerous projects in its portfolio into a clear, concise universal structure from which to manage.
"We work with a wide range of partners, from EPCs and OEMs to landscapers and asset managers. The breadth allows us to utilize the best providers in the business, but adds a degree of complexity," says Bryan Banke, Managing Director, Asset Management at RET Capital. "Lens gives structure to that complexity, which helps us manage our large volume of tasks and avoid mistakes or lapses in timing."
Pristine Sun sees the automation as key to its growth. "Our growth plans are tremendous. Its great to have Lens to keep an eye on all these new projects," says Rory Ramsay, Director of Field Operations at Pristine Sun.
As more investors realize the advantages of solar, the opportunities for solid returns increasingly depend on an owners ability to effectively and efficiently manage production, revenue and costs.
"Renewables are a great investment, but only with ongoing attention," Sachs says. "Weve built a learning platform. As we identify new data quality checks, for example, we now have a single place to update the rules engine and apply that across all projects. Thats good for solar everywhere."
About Radian Generation
Radian Generation is an independent solar asset management and field services firm. RadianGEN is a growing team of solar industry veterans with proprietary technology and processes that deliver best in class solar asset management and field services. RadianGEN provides project investors, lenders, and operators with the comprehensive management services and software necessary to ensure their projects perform contractually, technically and financially. The team works with leading infrastructure funds, national utilities, developers, IPPs, and O&M providers to generate higher ROI on solar assets. RadianGEN is a member of QuietStream Financials portfolio of asset management service providers that work together in the commercial real estate, renewable energy, and affordable housing investment sectors. RadianGEN currently has 300MW and counting of solar and wind assets under management across the Americas, Canada, and the Caribbean. To learn more visit: http://www.radiangen.com
Featured Product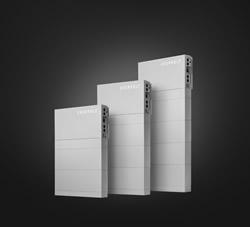 Extract maximum power production from every roof size and shape. HIT® AC Series combines the module efficiency of Panasonic solar panels with the intelligence of Enphase microinverters. A built-in IQ 7X microinverter with Individual MPPT (Module-level Power Point Tracker) tracking helps deliver an all-in-one module that offers design flexibility, reduced installation time, and a higher ROI. Field-replaceable microinverter with no DC wire management required yields lower cost of ownership.