Solar project originator ClearGrid is set to announce a partnership with a major developer to source sites for community solar across Massachusetts. ClearGrid's data-driven algorithm sources better sites in half the time, taking a huge bite out of soft costs. This new service comes at a perfect time to accelerate the booming community solar market in the Northeast and beyond.
Brooklyn, New York - October 20, 2015 - ClearGrid Energy, a community and utility-scale solar developer, is partnering with Citizens Energy Corp., a major solar power developer in Massachusetts, to find sites for solar installations across Massachusetts.

"This agreement with ClearGrid represents a significant step forward in helping us build an even greater pipeline for our solar energy development," said Citizens Energy CEO Peter Smith. "Through our relationship with the high-caliber team at ClearGrid, we have put ourselves in a strong position to develop additional solar projects. Their data-driven method to site acquisition will help us build our pipeline in Massachusetts as we look forward."
Citizens will finance certain projects that ClearGrid helps identify and coordinate. ClearGrid will originate the projects and manage key aspects of development, bringing projects to the "Notice to Proceed" stage, where they are construction-ready.
"We are pleased to be working with Citizens, an organization known for its first-class personnel, extensive relationships and exceptional project track record. We are looking to forward to supporting their mission and bringing high-quality solar projects to Massachusetts," said Michael Wyman, CEO and Founder of ClearGrid Energy.
About ClearGrid Energy
ClearGrid finds better solar sites faster, using a proprietary algorithm-driven site acquisition engine. ClearGrid is currently raising a round of investment to support expansion into a growing list of U.S. solar markets, including community solar and utility power purchase agreements (PPAs). For more information, please visit www.cleargridenergy.com.
About Citizens Energy
Citizens Energy, a non-profit founded and chaired by former U.S. Rep. Joseph P. Kennedy II, has developed and owns over 40 megawatts of utility-scale solar arrays on the East Coast, representing over $100 million of projects constructed. Citizens Energy's mission is to generate profits from solar projects and other business ventures and re-invest into them into its mission of helping people in need through such initiatives as its heating oil program.
Media Contacts:
Michael Simmons
Antenna for ClearGrid Energy
201-465-8030
cleargrid@antennagroup.com
Brian O'Connor
Citizens Energy Corp.
617-338-6800
solar@citizensenergy.com
Featured Product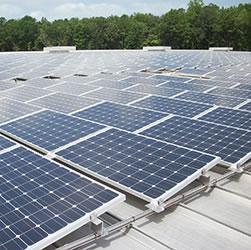 The Power Rail™ Commercial Mounting System is designed with the professional PV solar installer in mind. Both the XD/UD and LD/MD rails feature single tool assembly with the revolutionary patented RAD™ Lock-in-Place bolt for fast and secure module clamping. The high strength marine-grade aluminum rails include an integral wiring channel for securing cables and providing a professional finish.