Future solar customers will find solar less financially attractive if the proposals are adopted.
LOS ANGELES--American Solar Direct, a leading residential solar energy provider in California, joined with hundreds of other concerned Californians outside of the California Public Utilities Commission ("CPUC") office in Los Angeles to speak out against proposals by Californias largest utilities to largely diminish the financial benefits of solar panels to consumers by imposing new fees and reducing credits for energy generated, and putting utility profits ahead of continued state support for clean energy.

At issue are individual proposals from PG&E, SCE and SDG&E to their regulatory agency, the CPUC, that threaten Californians ability to access solar power affordably, Californias position as a solar power and climate change leader, and tens of thousands of local solar jobs.
Under existing rules, homeowners who choose solar are not subject to any utility fees for interconnection, and are credited at current retail rates for excess production fed back into the grid. However, under the new proposals, homeowners would be faced with interconnection fees, monthly fees, and credit for excess solar power produced at rates far lower than retail.
While existing customers with solar panels will be permitted to continue under the existing structure that has historically encouraged strong rates of solar adoption, future solar customers will find solar less financially attractive if the proposals are adopted. Current benefits will continue in each utility service area until caps on solar power production are met; in SDG&E, this date is projected to be as early as the beginning of 2016, with PG&E and SCE reaching their caps later in 2016 and 2017 respectively. As such, American Solar Direct, who employs approximately 400 people in California and continues to expand its local workforce, joined todays rally to continue to voice its opposition to the proposed restructuring.
Said Kevin Bauer, President of American Solar Direct, "Our employees believe deeply in the solar power movement, and wouldnt consider missing the opportunity to stand with solar friends and advocates to tell the CPUC that solar power is important to them, to our customers and to this state."
Also present at todays rally were students and teachers from the Betty Plasencia Elementary School, a Grammy award-winning artist from the Hip Hop Caucus, city council members, environmental organizations, concerned citizens, and other members of the solar industry. Said Bernadette Del Chiaro, Executive Director at solar industry association, CALSEIA, "Solar is important to all Californians. The rally today sends a strong message to the CPUC that we stand in solidarity behind affordable solar power for homeowners and the continuation of Californias position as the nations solar leader."
As of October, 2014, the solar power industry in California employs more than 54,000 people, according to a report by The Solar Foundation.
About American Solar Direct
American Solar Direct is a full-service solar provider offering California homeowners solar design, permitting, installation, and maintenance services. Through its simple program, American Solar Direct offers homeowners the ability to generate their own clean, renewable power and take control of their electricity prices. American Solar Direct was declared 17th Fastest Growing Private Company in 2014 by INC. magazine, name, earned national Company of the Year honors in the Energy category by the American Business Awards and maintains an A+ rating with the Better Business Bureau (BBB). American Solar Direct is a proud member of CalSEIA.
Connect with American Solar Direct on Facebook and follow us on Twitter, @AmerSolarDirect. www.americansolardirect.com
Featured Product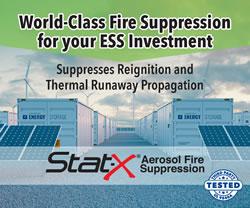 Stat-X® condensed aerosol fire suppression is a solution for energy storage systems (ESS) and battery energy storage systems (BESS) applications. Our Stat-X condensed aerosol fire extinguishing product was tested for efficacy in suppressing li-ion battery fires. It was found that the product successfully extinguished single and double cell battery fires. This testing was conducted in parallel with a large battery fire testing program on behalf of a large energy storage company.