PVC, is reaching a landmark year in 2016
The grand old staple of plastics materials, PVC, is reaching a landmark year in 2016: 80 years of service in water pipes in Germany. Rigid PVC in construction is the largest market for vinyl resin, primarily pipes and profiles. This polymer has provided excellent properties for waterproofing, water distribution pipes, food packaging, agricultural films, cables, blood bags, window profiles and many other critical applications. Correct resin selection and formulation provide durable, tailored properties for each type of use. However, over time the formulations have changed driven by chemical industry regulations and the constant push to improve performance and economics.

In terms of sustainability the vinyl industry is a leader in recovery and recycling through an excellent industry chain and voluntary codes of conduct. AMI is bringing together plastics processors, PVC producers, compounders, additive suppliers and researchers to discuss the future of vinyl materials at PVC Formulation 2016, which takes place from 5-7 April 2016 at the Maritim Hotel in Cologne, Germany.
The PVC Formulation 2016 conference kicks off on the morning of 6th April with an assertive overview of the market situation in Europe from Kem One, a leading player in the European industry. The PVC industry has made impressive strides with a big sustainability programme, which looks at everything about the compounded material from the additives through to the end-recovery and re-use of polymer. At PVC Formulation 2016 Dr Ettore Nanni, CEO of Reagens will talk about the new sustainable additives initiative from the ECVM. This is followed by an AGPU paper on the hot topic of additives in the circular economy for PVC including the issue of legacy ingredients.
There are several PVC ingredients that are available in different forms such as natural and synthetic including magnesium hydroxide and aluminium hydroxide; Egyplast - Elsewedy Electric has studied the different performance in PVC looking at properties such as processing, flammability and tensile strength. Dr Beyer of Kabelwerk Eupen has focused a lot of research on high performance flame retardancy, while Europiren has developed a new flame retardant filler and smoke suppressant. From France, Cray Valley has a new processing aid for rigid PVC, while in the US AM Stabilizers has developed high metal content, alkyl phenol free carboxylates for liquid mixed metal stabilisers.
Leading compounder Benvic Europe has a new generation of thermoplastic alloy for use in construction, this is an innovative PVC-U compound with improved thermal performance. Siding and profiles are exposed to constant sun irradiation and to thermal changes in the environment, which can cause warping in extreme cases. The IQAP Masterbatch Group has developed a new cold masterbatch system to give good colour and stability to profiles and siding. In another outdoor setting, the Netherlands testing group, KIWA, has studied the effects of sunlight on PVC gas pipes. Signage is a widespread application of vinyl and Avery Dennison has looked at the effects of weathering on graphic films. Sustainable materials are making inroads in all areas of industry: Dr Michael Schiller will review developments in PVC-wood plastic composites.
The flexible PVC industry comprises a wide range of applications. The versatility of plasticised vinyl requires an array of different formulations and testing, depending on the end use, from extractables and leachables for food through to flame retardancy in building materials. Konrad Hornschuch is a key producer of artificial leather and has looked at the selection of formulation with potential conflict between appearance, haptics and functionality. Terumo Penpol in India is manufacturing a range of storage systems for blood and blood components made from plasticised PVC and uses alternative plasticisers to replace DEHP. From Germany BASF is keeping ahead of the regulatory and industry trends in plasticisers. In Hungary, Professor Marossy of Borsochem has studied the flow of plasticised PVC melts and the effects of the thermal and shear history.
The CEFIC industry association plasticisers group, ECPI, is constantly reviewing the latest legislation and is examining the science behind the latest European regulations. There has been an epidemiological study at Maastricht University on how reviews of the effects of phthalates have been conducted. On the plasticiser producers side, Grupa Azoty Zak is taking a view of the European plasticiser landscape and where it is heading. Out of Sweden, Perstorp has developed a high performance polyol ester plasticiser for plastisol.
AMIs PVC Formulation 2016 conference in April in Cologne provides a technology showcase and a debating form for the PVC industry worldwide, all branches of industry are invited to attend.
Featured Product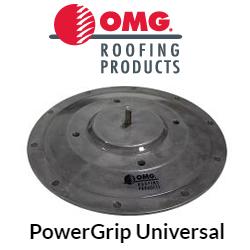 Eliminate Solar Rack Ballast and Reduce Rooftop Material Handling. PowerGrip™ Universal (PGU) is a commercial roof mount system designed to secure solar racks and other equipment to any type of commercial roofing system. PGU provides a secure connection directly to the roof deck or structural members and is designed to reduce or eliminate ballast in solar racking systems, so there's less weight on the roof and less material handling. Made of heavy-duty cast aluminum, PGU units include a base ring which is secured through the roofing cover and into the structural roof deck, and a waterproof top plate.