Terry Anderson, President of TRA Snow and Sun which manufactures roof snow retention, solar mounting and flashing/ventilation products, receives trademark rights for the "Ridge Riser."
American Fork, Utah October 19, 2015 -- A US registered trademark has been issued by the United States Patent and Trademark Office for the "Ridge Riser," a device made of metal to support a nailer board primarily on the ridge of a building. Anderson created the Ridge Riser for concrete and clay tile roofs with prescored bend lines for adjustable height and slope. It will also work on 2×2 hip and ridge boards. Made of metal, the Ridge Riser reduces lumber costs. Anderson received a patent for the Ridge Riser in 2011.

A Ridge Riser enables air to enter at the eave line of a roof and naturally move upward and vent out at the top
of the roof at the ridge. Anderson explained why he invented the Ridge Riser when he received the patent, "One of my reasons for coming up with this Ridge Riser design was because the accepted way to attach roof tile to a ridge is dangerous.
A roofer toe-nails a 2 x 6 or 2 x 8 to the peak of the roof, wraps some black roof paper around it, then nails the tile to that. In a wind storm that wood and tile easily blows off. If you're in the vicinity when this happens, you'd better watch out." The Ridge Riser has been tested in Dade County, Florida and passed Wind Uplift tests with flying colors. It is made of galvanized steel and requires nothing but nails and a 2 x 2 to create the ideal solution at the ridge. Besides the safety concern, Anderson's Ridge Riser saves both the installer and the homeowner money. It elevates the ridge board so that there is air movement from the eave all the way up and out through the ridge.
This cools the attic and roof system and extends the life of the underlayment. The homeowner saves on his home air conditioning costs because his roof/attic area is cooler due to the constant venting and he won't have to replace his roof as soon. The installer now only needs to inventory 2 x 2's instead of multiple lumber dimensions, keeping his cost down and saving the labor and expense of wrapping underlayment around the
wood.
Anderson has other patented roof products including the Snow Bracket snow guard (roof snow retention devices)., which is for roofs in cold locations. Snow Brackets, too, focus on roof safety issues. A Snow Bracket snow guard keeps snow and ice in place uniformly on the roof and solves the problem of snow avalanching off and killing someone underneath. Anderson points out, "You can create a safer roof in a snowy environment by using both the Ridge Riser and theSnow Bracket snow guards. The Ridge Riser helps prevent hot and cold spots due to the constant movement of air in the roof system which helps prevent ice dams from building up. The Snow Brackets keep the snow and ice from falling off and causing damage or injury."
Featured Product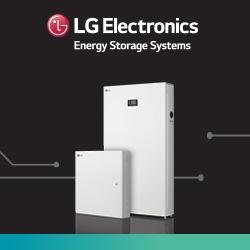 LG Solar is transforming today's solar landscape, offering precision-manufactured and high-efficiency solar panels for homeowners who demand high performance, reliability and consistently strong energy yield from a brand they can trust. LG modules feature outstanding durability, appealing aesthetics and high-efficiency technology, backed by a limited 25-year product, performance and labor (up to $450) warranty. Homeowners who purchase LG Solar modules know they're protected by a diversified global brand.