Latest SolarWindow process breakthrough revolutionizes the transmission of electricity on glass with wires as thin as human hair.
COLUMBIA, Md.--SolarWindow Technologies, Inc. (OTCQB: WNDW), a leading developer of first-of-their-kind transparent electricity-generating coatings for commercial windows on skyscrapers and tall towers, today announced that a process breakthrough has enabled the advanced development of invisible wires as thin as human hair for improved transmission of electricity from the surface of its power-generating glass. According to the company, its early, first generation, invisible wire microgrid was already the thinnest system ever developed for its SolarWindow technology.

"Our previous system was widely acknowledged as a technical breakthrough. However, weve always wanted to push the boundaries, and have now done so with wires as thin as human hair. Moving forward, our technology team has vowed to attempt even finer wiring grids in order to help them eventually disappear to the human eye," said John A. Conklin, President and CEO of SolarWindow Technologies, Inc.
Todays invisible microgrid wires are thinner than an average human hair. When applied in a grid pattern, the new, virtually invisible wire system increases power and performance while improving the visual aesthetics of SolarWindow systems, currently under development.
The process developed for these new virtually invisible wires is solution processable, faster, and can be applied using high speed roll-to-roll (R2R) or large area sheet-to-sheet (S2S) equipment, all compatible with the companys SolarWindow module production and deployment strategy.
Despite the extremely fine wiring microgrid, SolarWindow glass coatings will continue to serve as a deterrent to bird collisions, an ongoing environmental concern for glass manufacturers and window producers. According to the American Bird Conservancy, up to a billion birds die in collisions with glass each year in the United States. In response, cities are increasingly adopting building codes to address the issue.
"Were grateful for the support of the development team at the U.S. Department of Energys National Renewable Energy Laboratory (NREL)," said Dr. Scott Hammond, Principal Scientist, SolarWindow Technologies, Inc. "Specifically; our work in collaboration with Dr. Maikel van Hest, Senior Scientist, and Talysa Stockert, Research Associate, at NREL, has led to todays technology advancement."
NREL is among the worlds most respected and advanced solar-photovoltaic research institutions, and over its 38-year history has been credited for ground-floor support of many of the commercial technologies employed by todays renewable energy industries. NREL and SolarWindow have been working through a Cooperative Research and Development Agreement to advance the companys SolarWindow technology for generating electricity on glass windows.
SolarWindow modules are designed as transparent glass windows for installation on tall towers and skyscrapers. SolarWindow modeling shows that modules achieve the industrys fastest published financial payback of less than one year as validated by a team of independent engineers and at the University of North Carolina Charlotte Energy Production and Infrastructure Center (UNCC-EPIC).
Engineers envision installing SolarWindow products on all four sides of tall towers, generating electricity using natural, shaded, and even artificial light. Conventional solar does not work in shaded areas or perform under artificial light. As a result, SolarWindow modules outperform todays rooftop solar by as much as 50-fold more energy generated when modeled for installation on a 50-story building.
About SolarWindow Technologies, Inc.
SolarWindow Technologies, Inc. is a developer of next generation, transparent electricity-generating SolarWindow coatings.
SolarWindow coatings generate electricity on see-through glass and flexible plastics with colored tints popular to skyscraper glass. Unlike conventional systems, SolarWindow can be applied to all four sides of tall towers, generating electricity using natural and artificial light conditions and even shaded areas. SolarWindow uses organic materials, which are dissolved into liquid, ideal for low-cost high-output manufacturing; and is the subject of a patent pending technology.
The companys Proprietary Power Production & Financial Model (Power & Financial Model) uses photovoltaic (PV) modeling calculations that are consistent with renewable energy practitioner standards for assessing, evaluating and estimating renewable energy for a PV project. The Power & Financial Model estimator takes into consideration building geographic location, solar radiation for flat-plate collectors (SolarWindow irradiance is derated to account for 360 degree building orientation and vertical installation), climate zone energy use and generalized skyscraper building characteristics when estimating PV power and energy production, and carbon dioxide equivalents. Actual power, energy production and carbon dioxide equivalents modeled may vary based upon building-to-building situational characteristics and varying installation methodologies.
For additional information, please call Ms. Briana L. Erickson toll free at 1-800-213-0689 or visit: www.solarwindow.com.
Featured Product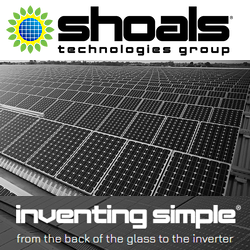 Inventing Simple® isn't just a slogan to us, it's a way of life. Using simple plug-and-play ideology, we revolutionized solar installations in 2003 with our Interconnect System™. Our harnessing system is now the gold standard EPC's use around the world. By using simple ideas, we are making solar energy a more affordable and clean power source for future generations.