The West leads the rest of the country in generation and investment for renewable energy.
San Francisco, CA - The annual update of the American Council On Renewable Energys (ACORE) Renewable Energy in the 50 States: Western Region report was released today at the Renewable Energy Finance Forum-West (REFF-West) in San Francisco. Fully redesigned for 2015, this report examines state energy policies and programs, investment, and market openness in the renewable energy sector in the thirteen western states (AK, AZ, CA, CO, HI, ID, MT, NV, NM, OR, UT, WA, WY).

"ACOREs 50 State Report is a key resource for anyone interested in the progress of renewables across America," said Dan Reicher, interim President and CEO of ACORE and Executive Director of the Steyer-Taylor Center for Energy Policy & Finance at Stanford University. "We are especially excited to release the Western Region edition first, as so much of renewable energys success can be traced back to this part of the country. As we kick off another exciting REFF-West conference, were reminded that the story of renewables is really just beginning its grown-up stage. I expect this annual report to show great gains for many years to come."
This years report includes an important introduction by international law firm Crowell & Moring LLP, and captures the continued importance of the region as a hotspot for renewable energy development. The summary discusses key drivers for renewable energy deployment, such as western power market expansion, EPAs Clean Power Plan, and net energy metering rules, as areas of particular interest in 2015.
"Joining with ACORE to produce the 50 State Report this year has been a great opportunity to highlight areas in the energy space where our firm has been especially busy in 2015," said Nancy Saracino at Crowell & Moring. "Crowell & Moring is actively growing its energy practice in California, in the western U.S., and across the country more generally, where, like California, were anticipating significant growth in the clean energy industry over the coming decade. This report is certainly a useful tool to understand the dynamics of evolving renewable markets not just in the West, but in any state or region where whats going on in the West might be emulated."
Renewable Energy in the 50 States: Western Region report summarizes the status of renewable energy implementation in the thirteen western states. Compiling financial, renewable energy resource potentials, and market and policy information in an easily-accessed, online format, the report is a resource for all who are interested in the highlights of each renewable energy sector in the states. Investment information in this report was provided by Bloomberg New Energy Finance.
This years update to the Western Region Report notes that in 2014, the western renewable energy sector attracted nearly half of the countrys combined venture capital, private equity, and asset finance investment and produced roughly one third of the regions total electricity generation - compared to about 13 percent nationally. In fact, the report notes that half of the nations total renewable power capacity is located in these states, including 60 percent of all hydro, 70 percent of all solar, and 100 percent of all geothermal power.
"Renewable energy is more affordable today than ever before, and ACORE is excited to report on ways in which the western U.S. is taking advantage of its immense renewable resources," said Lesley Hunter, lead author of the report and Director of Research & Programs at ACORE. "From Californias 50% RPS to Nevadas sub-four cent PPA signed this year for a solar project, 2015 has been a major year for renewables in the West."
Also among its key findings, the report highlights the broad scope of clean energy deployment state by state. California has strong policy support and diverse renewable resources, helping attract more investments than any other state with $5.2 billion invested in 2014. Arizona has the second highest solar capacity in the region, behind only California. However, due to unfavorable policy changes, the Grand Canyon State installed only half the amount of capacity in 2014 than it installed in the year prior. The report also highlights the recent expansions of Hawaii and Californias renewable portfolio standards, to 100% and 50% respectively, which are expected to drive significant gigawatts of new projects in the upcoming years.
ACORE's 2015 Renewable Energy in the 50 States: Western Region report can be downloaded: http://acore.org/images/documents/WesternRegionReport2015.pdf
Featured Product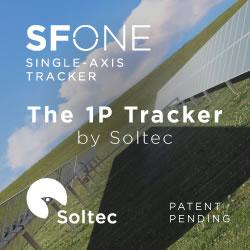 SFOne is the 1P single-axis tracker by Soltec. This tracker combines the mechanical simplicity with the extraordinary expertise of Soltec for more than 18 years. Specially designed for larger 72 an 78 cell modules, this tracker is self-powered thanks to its dedicated module, which results into a lower cost-operational power supply. The SFOne has a 5% less piles than standard competitor, what reduces a 75% the labor time.