Efficient Energy of Tennessee and San Francisco-based CivicSolar are project partners
HILLSBORO, Ore., Nov. 11, 2015 - SolarWorld, the largest U.S. solar manufacturer for nearly 40 years, announced today that the company has supplied two projects totaling 2.6 megawatts-peak (MW) of American-made solar panels for facilities of the U.S. Department of Veterans Affairs.

Efficient Energy of Tennessee (EETN) was the engineering, procurement and construction (EPC) contractor for the solar systems at the Robert J. Dole VA Medical Center in Wichita, Kan., and West Texas VA Health Center in Big Spring, Texas. San Francisco-based CivicSolar provided distribution services for the projects. The three companies are finalists in bidding on other VA installations. The projects in Kansas and Texas, each including parking canopy systems, were completed over recent months.
Today, Veterans Day, the three companies are proud to announce that they are helping to spur the agencys build-out of its renewable-energy supplies. The VA has set its sights toward generating as much as 5 percent of its power supply from solar over the short term and 20 percent by 2020. All three companies value their roles in equipping the VAs drive to meet its clean energy goals. In fact, EETN, founded by a veteran, has supported up to 20 jobs for veterans at its solar projects for the Department of Veterans Affairs.
"We honor and value our nations returning soldiers, and all they have done for us," said Ardes Johnson, U.S. vice president for sales of SolarWorld Americas Inc. and a former naval officer. "We know that solar can reduce the amount of fuel and fuel convoys in theater and therefore save lives as well as curb our needs for foreign fossil fuels. We also embrace the skills, leadership and training of our military men and women as potential employees working to advance this American-pioneered high-tech manufacturing industry."
Efficient Energy of Tennessee was established in 2009 in Powell, Tenn., by Robbie Thomas, a 21-year veteran of the U.S. Navy Submarine Force.
"As a veteran, I fully understand how expanding renewable energy supports our national defense and energy security," Thomas said. "Efficient Energy of Tennessee is proud to support veterans in the solar energy workforce because they bring an unparalleled skill set and unyielding focus to accomplish the mission."
CivicSolar said it was honored to supply these flagship VA projects with high-quality, made-in-the-USA products that comply with federal Buy American Act requirements. CivicSolar's ability to support and supply multiple solar projects exceeding 1 MW enabled the company to contribute significant value to the projects.
"Being able to supply multiple sites with BAA product in a timely fashion allowed EETN and CivicSolar to support the VA nationwide," said Stuart Rentz, CEO of CivicSolar.
About SolarWorld REAL VALUE: SolarWorld manufactures and sells high-tech solar power solutions and, in doing so, contributes to a cleaner energy supply worldwide. The group, headquartered in Bonn, Germany, employs about 3,700 people and carries out production in Freiberg, Germany; Arnstadt, Germany; and Hillsboro, Oregon, USA. From raw material silicon to solar wafers, cells and modules, SolarWorld manages all stages of production ‒ including its own research and development. Through an international distribution network with locations in the United States, Europe, Singapore, Japan and South Africa, SolarWorld supplies customers all over the world. The company maintains high social standards at all locations across the globe, and it has committed itself to resource- and energy-efficient production. SolarWorld was founded in 1998 and has been publically traded on the stock market since 1999. Connect with SolarWorld on Facebook, Twitter and www.solarworld.com.
About Energy Efficiency of Tennessee: EETN (Efficient Energy of Tennessee) was established in 2009 with Headquarters in Powell, Tenn. EETN provides commercial and utility scale, turn-key solar PV solutions throughout the United States and South Pacific. EETN is a certified Service Disabled Veteran Owned Small Business and NABCEP-certified installer. For more information, visit www.eetenn.com.
About CivicSolar: Approaching 65 MW of sales in 2015 with offices in San Francisco and Boston, CivicSolar provides on-time, complete and accurate delivery from its national network of warehouses. CivicSolar differentiates itself from other distributors by focusing on expert service and knowledge and contributing value to its 3,500-plus solar installer customers. For more information, visit civicsolar.com.
Featured Product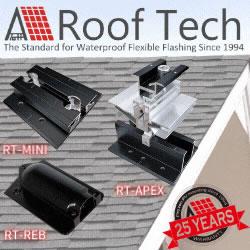 Now Roof Tech brings you the most innovative, watertight mounting systems ever developed for solar photovoltaic systems. Designed and manufactured exclusively for us by Japan's longtime leader in roofing technologies, Roof Tech products are 100% code-compliant and offer fast, simple installation and huge savings on shipping costs due to their compact, rail-less design. Learn more about our full line of versatile PV mounting solutions now available for residential installations. The next generation in rooftop solar mounting solutions."