The concrete tower will provide support for the tallest land-based wind turbine ever built in the country.
DES MOINES, Iowa - (November 16, 2015) - MidAmerican Energy Company's new wind farm in Adams County, Iowa will include a first for the company - a concrete wind turbine tower.

Mike Gehringer, vice president, renewable energy, said the concrete tower will provide support for the tallest land-based wind turbine ever built in the country, which will be able to capture wind energy generated at higher altitudes. "Advancements in turbine design and construction techniques are opening up new opportunities for development of renewable resources," Gehringer said. "We want to continue to lead in bringing innovative energy solutions to our customers and the state of Iowa."
MidAmerican Energy has contracted with Siemens for the supply and construction of its new concrete tower design. Gehringer said both companies view this tower as a prototype that could serve as the model for other concrete turbine towers at future wind farms and could open up low-to-medium wind resource areas of Iowa for future wind development.
"The process of building a concrete tower is quite different from the process we use to construct turbines with steel towers," Gehringer said. "Instead of building the tower sections in a factory and transporting them to the site to be fitted together, crews pour the concrete in segments and manufacture the tower onsite."
Using concrete in place of steel provides the option to install a taller wind turbine that can capture more wind energy. "Generally speaking, the higher the altitude, the greater the wind resource available," Gehringer said. The 2.3-megawatt concrete tower turbine at the Adams wind farm will measure 377 feet from ground to hub, compared to 263 feet for most of the turbines in use at other MidAmerican Energy wind farms. With blades extended, the turbine will reach a height of 554 feet, making it about as tall as the Washington Monument.
Michael McManus, Head of Business Development and Strategy for Siemens Americas Onshore Wind, said this will be the first concrete tower project for Siemens in North America. "We're proud to say that this patented Siemens tower technology was conceived, designed, engineered, and constructed entirely in the United States," he said. "This project marks another milestone in our successful partnership with MidAmerican Energy to expand clean, renewable wind power in Iowa and continually drive down the cost of wind energy."
In addition to the local supply and construction of the Siemens concrete tower, Siemens sourced the concrete formwork from EFCO Corp. in Des Moines and supplied the wind turbine blades for the entire Adams project from the Siemens blade factory in Ft. Madison, Iowa.
The concrete turbine is one of 64 wind turbines planned for the Adams wind farm. Construction is underway on the 154-megawatt project, and all turbines are scheduled to be erected by the end of 2015.
Featured Product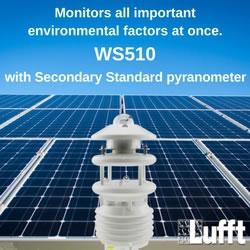 Professional weather sensors form the heart of large solar plants supporting their operation and performance. Lufft was the first manufacturer to combine several sensors in one housing, bringing the largest multiparameter weather sensor family with 19 members into being. Many of them are well-suited for solar site assessment and continuous monitoring. The most commonly used one is the WS600 delivering data on temperature, air pressure, wind, relative humidity and precipitation. Through its open protocol, it can easily be attached to radiation sensors e.g. from Kipp&Zonen. Other models have an integrated Silicon, Second Class or Secondary Standard radiation sensor.