Reliable Power for Renewable Energy Applications with Trojan Deep-Cycle Batteries Trojan and TeamSustain Nominated for "Solar Project in India" Award
MUMBAI, India, Nov. 17, 2015 - Trojan Battery, Co. LLC is showcasing its advanced deep-cycle battery technologies for renewable energy, remote telecom and backup power applications at booth 6.C32 during Intersolar India being held this week in Mumbai. Listed below are the news highlights which will be showcased at Trojan's booth.

News Highlights:
. Trojan Battery and its project partner TeamSustain, have been named as a finalist for the Intersolar "Solar Projects in India" award for their Smart Classroom and SunRider solar boat projects. The award ceremony announcing the final winners will be held at 3 p.m. on Nov. 18 at the Presentation Stage (Hall 1, Booth 1170).
. Trojan opens new research and development (R&D) center in Sligo, Ireland located on the campus of the Institute of Technology, Sligo at its Innovation Centre.
. Smart CarbonT addresses the impact of Partial State of Charge (PSOC) on cycling batteries in renewable energy, inverter backup and remote telecom applications. Smart Carbon is Trojan's proprietary formula offering improved performance when the batteries operate in PSOC.
. ReliantT AGM with C-Max TechnologyT is the industry's first true
deep-cycle AGM battery and is manufactured in the U.S., which maximizes sustained performance and increases total energy output to meet demanding deep-cycling requirements in Trojan's wide range of market applications, including renewable energy.
Finalists for "Solar Projects in India" Award Trojan Battery and TeamSustain projects outlined below have been named as finalists for the Intersolar "Solar Projects in India" award.
Smart Classrooms for Remote Villages of India Smart Classrooms are technology enhanced classrooms set up in selected remote schools throughout India to foster teaching and learning by integrating educational technology such as computers, specialized software, Audience Response Technology, assistive listening devices, networking and audio/visual capabilities. Smart Classrooms are powered by solar systems with battery backup using Trojan Smart Carbon batteries.
SunRider Solar Boat
Solar-powered boats are ideal for water tourism, recreational activities and use in nature reserves, since they have zero-emissions and do not pollute lakes and rivers. In addition, due to their inherent silent operation, neither people nor animals are disturbed by noisy diesel motors. The SunRider solar boat is powered by Trojan's deep-cycle Smart CarbonT batteries.
Trojan Opens R&D Center in Ireland
Trojan Battery Ireland will focus on R&D of advanced material additives, fundamental electrochemistry and other innovative technologies which will play a role in the continued advancement of Trojan batteries. These developments will enhance Trojan's battery offerings for its foundational and emerging market segments. In addition, the Advanced Materials Centre will enable Trojan to introduce ground-breaking advancements in deep-cycle battery technology more quickly. Trojan has appointed two research scientists to manage various Trojan projects at the new Sligo R&D facility.
Read more at www.trojanbattery.com/news-room.
Featured Product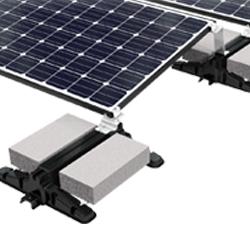 The Power Rail™ Commercial Mounting System is designed with the professional PV solar installer in mind. Both the XD/UD and LD/MD rails feature single tool assembly with the revolutionary patented RAD™ Lock-in-Place bolt for fast and secure module clamping. The high strength marine-grade aluminum rails include an integral wiring channel for securing cables and providing a professional finish.