Company completes first phase of development with encouraging data suggesting its Super Cathode technology can achieve significantly higher capacity with costs below $100/kWh
Santa Clarita, CA - November 17, 2015 - BioSolar, Inc. (OTCQB: BSRC), a developer of breakthrough energy storage technology and materials, today announced that the company has successfully completed the first phase of its super battery technology development. Test results suggest that lithium-ion batteries incorporating BioSolar Super Cathode technology can achieve significantly higher capacity with costs below $100/kWh, which is less than half of todays lowest cost lithium-ion batteries.

"We are pleased to confirm that a battery constructed with our new prototype cathode not only demonstrated a reduced cost of energy storage, but also a significant storage capacity improvement over that of existing lithium-ion batteries," said Dr. David Lee, CEO of BioSolar. "The next phase of development will be focused on optimizing cathode manufacturing processes and preparing demonstration prototype batteries."
Dr. Lee continued, "We believe the upcoming demonstrations of our battery technology will strengthen BioSolars position as an innovator in the energy storage sector. Experts believe that achieving a $100/kWh cost is a watershed moment that will make lithium-ion batteries a true mass market technology, and finally allow electric vehicles to be cost-competitive with conventional gas-powered vehicles."
Today's lithium-ion battery is limited by the storage capacity of its cathode, while the anode can store much more.BioSolars novel cathode is based on inexpensive conductive polymers and organic materials that can fully match the storage capacity of conventional anodes. Instead of conventional cathodes that use lithium-ion intercalation chemistry, the companys technology exploits the fast redox-reaction properties of polymers.
The company believes its technology has the potential to reduce costs, improve range, and enable faster charging times across markets spanning electric vehicles, personal technology, and storage for renewable energy, such as solar. BioSolars Super Cathode technology is designed to be compatible with existing battery manufacturing processes, thereby enabling seamless integration and adoption.
According to a recent study performed by GTM Research and the Energy Storage Association, it is predicted that the energy storage market in the United States will triple in 2015, and will grow from $128 million in 2014 to $1.5 billion by 2019. Currently, the market is very concentrated, as over 70% of installed energy storage capacity uses lithium-ion batteries, as the technology is proven and bankable. A separate study performed by Research and Markets expects the global battery energy storage market for renewables to grow at a CAGR of 65.7% over the period 2015-2019.
BioSolar is currently funding a sponsored research program at the University of California, Santa Barbara (UCSB), to further develop its super battery technology. The lead inventors of the technology are UCSB professor Dr. Alan Heeger, the recipient of a Nobel Prize in 2000 for the discovery and development of conductive polymers, and Dr. David Vonlanthen, a project scientist and expert in energy storage at UCSB.
About BioSolar, Inc.
BioSolar is developing a breakthrough technology to increase the storage capacity, lower the cost and extend the life of lithium-ion batteries. A battery contains two major parts, a cathode and an anode, that function together as the positive and negative sides. Today's state-of-the-art lithium-ion battery is limited by the storage capacity of its cathode, while the anode can store much more. Inspired by nature, we are developing a novel cathode based on inexpensive conductive polymers and organic materials that can fully utilize the storage capacity of conventional anodes. By integrating our high capacity, high power and low-cost cathode with conventional anodes, battery manufacturers can create a super lithium-ion battery that can double the range of a Tesla, power an iPhone for two days straight, or store daytime solar energy for nighttime use. Founded with the vision of developing breakthrough energy technologies, BioSolar's previous successes include the world's first UL approved bio-based back sheet for use in solar panels.
To learn more about BioSolar, please visit our website at http://www.biosolar.com.
Safe Harbor Statement
Matters discussed in this press release contain forward-looking statements within the meaning of the Private Securities Litigation Reform Act of 1995. When used in this press release, the words "anticipate," "believe," "estimate," "may," "intend," "expect" and similar expressions identify such forward-looking statements. Actual results, performance or achievements could differ materially from those contemplated, expressed or implied by the forward-looking statements contained herein. These forward-looking statements are based largely on the expectations of the Company and are subject to a number of risks and uncertainties. These include, but are not limited to, risks and uncertainties associated with: the impact of economic, competitive and other factors affecting the Company and its operations, markets, product, and distributor performance, the impact on the national and local economies resulting from terrorist actions, and U.S. actions subsequently; and other factors detailed in reports filed by the Company.
Investor Relations Contact:
Tom Becker
BioSolar, Inc.
ir@biosolar.com
(877) 904-3733
For Media Inquiries:
Eric Fischgrund
FischTank Marketing and PR
eric@fischtankpr.com
Featured Product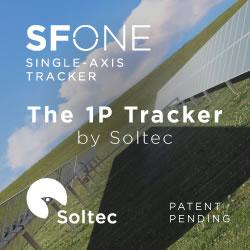 SFOne is the 1P single-axis tracker by Soltec. This tracker combines the mechanical simplicity with the extraordinary expertise of Soltec for more than 18 years. Specially designed for larger 72 an 78 cell modules, this tracker is self-powered thanks to its dedicated module, which results into a lower cost-operational power supply. The SFOne has a 5% less piles than standard competitor, what reduces a 75% the labor time.