Indias largest exhibition and conference for the solar industry expects 
9,500 visitors
Mumbai/Pforzheim/Freiburg, November 18, 2015: The seventh Intersolar India kicks off today at the Bombay Exhibition Centre (BEC) in Mumbai. The organizers of Indias largest exhibition and conference for the solar industry are expecting 9,500 visitors by November 20. A positive sign was already evident in the run-up to the exhibition. With more than 200 exhibitors, the exhibition space for Intersolar India was booked out several weeks before the exhibition began. In the coming days, companies will present their innovations in the areas of photovoltaics (PV), PV production technologies, energy storage systems and solar thermal technologies. More than 100 experts from research, industry and associations will discuss the opportunities and challenges for the Indian solar industry at the conference. A particular highlight of the opening day is the presentation of the Intersolar AWARD in the category Solar Projects in India.

Its no secret that India is among the most promising emerging solar markets in the world. With 1.2 billion residents, it is the worlds second most populous country. Energy supply is a huge challenge, with diesel motors often used to produce power, especially in agriculture and private households. To ensure long-term energy supply and encourage environmental protection in the country, the government has set ambitious goals. By 2022, the installed PV output is to be increased by a total of 100 GW. With some 300 days of sunshine per year and daily insolation levels of four to seven kilowatt hours (kWh) per square meter, India is ideally suited for solar energy production and is now turning words into deeds. In the first half of the year, the country has already built significantly more installations than expected. This year, new PV installations with a total output of around 2.5 GW are projected, more than doubling the output of 2014. 4-6 GW of additional output are projected for 2016. This would put India in fourth place among the worlds top solar markets - a sunny outlook for the Indian solar industry.
Lots of interest among exhibitors
In the coming days, 200 companies will present their innovations in hall 1 of Bombay Exhibition Centre. Exhibitors from 12 countries illustrate Indias importance as a solar market - the exhibition space was booked out weeks in advance. In 2015, the special exhibition ees India (electrical energy storage) is taking place in conjunction with Intersolar India for the first time. As a leading platform for storage technologies in India, the special exhibition illuminates the potential of innovative energy storage systems for future energy supply and grid stability in India.
Up to 500 visitors expected at the Intersolar India Conference
Energy storage is also one of the topics discussed at the Intersolar India Conference, which is taking place in parallel. In addition, the conference program addresses the prospects for the Indian solar market, large-scale PV installations, financing, as well as project development and off-grid power supply. More than 100 renowned international speakers are expected at the conference.
One of the highlights of the opening day is the 4th Indo-German Energy Symposium, a side event accompanying the Intersolar India and starting at 2:00 pm on November 18. The symposium entitled Solar PV Rooftop-Market Development in India and International Trends sheds light on the market for roof-mounted installations in India, the current financing situation and the developments in self consumption of solar power. Speakers include Claudia Arce, Director for South Asia, Afghanistan, Pakistan of the KfW Development Bank, Germany and Tarun Kapoor Joint Secretary at the Indian Ministry of New & Renewable Energy (MNRE).
Other speakers on the first day include Susanne Dorasil, Division Head at the German Federal Ministry for Economic Cooperation and Development and Dr. Ashvini Kumar, (Solar) Director of the Solar Energy Corporation of India, whose presentations will include taking a closer look at Indias plans for growth in the solar sector.
Promising finalists for the Intersolar AWARD
Numerous projects were submitted for the 2015 Intersolar AWARD in the category Solar Projects in India. A panel of judges has nominated eight finalists. Submissions could be made by exhibitors at all of this years Intersolar exhibitions. The key criterion for the award is that the submission represents a promising and pioneering project with particular benefits for environment and society. In addition, its economic advantages and the degree of technological innovation are taken into account. The celebratory award ceremony takes place at 3:00 pm on opening day on the Presentation State (hall 1, booth 1170).
The following firms and projects have been nominated:
- Bosch Ltd: 12MWp Solar Power Plant at Cochin International Airport Limited
- Bosch Ltd: 2.1 MWp Rooftop Solar Power Plant at Bosch Plant, Nashik
- Enrich Energy Private Limited: 60 MWp Solar PV Park under State Policy in Telangana
- STERLING AND WILSON LTD: 11 MWp Total Turnkey Solar Project in Maharashtra
- Trojan Battery Co. LLC: Smart Classrooms for remote and un-electrified villages of India
- Trojan Battery Co. LLC: SunRider Solar Boat
- Victron Energy B.V.: Afsanah's Guest House
- Vikram Solar Pvt Ltd: 40 MW Solar Power Facility for IL&FS Energy Development Company Limited
Further information is available at www.intersolar.in
Featured Product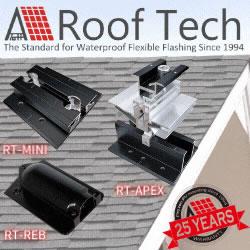 Now Roof Tech brings you the most innovative, watertight mounting systems ever developed for solar photovoltaic systems. Designed and manufactured exclusively for us by Japan's longtime leader in roofing technologies, Roof Tech products are 100% code-compliant and offer fast, simple installation and huge savings on shipping costs due to their compact, rail-less design. Learn more about our full line of versatile PV mounting solutions now available for residential installations. The next generation in rooftop solar mounting solutions."