Expansion of charging infrastructure will be the single largest factor influencing ZEV adoption, finds Frost & Sullivan
MOUNTAIN VIEW, Calif., Nov. 20, 2015 -- California is on the verge of becoming the largest market for zero emission vehicles (ZEVs) in the United States, steered by the state's increasingly stringent ZEV mandate. The directive lends a holistic perspective to the adoption of ZEVs, chalking out a plan for raising consumer awareness, building required infrastructure, and offering special permissions such as lane and parking access.

New analysis from Frost & Sullivan, Strategic Analysis of California Zero Emission Vehicle Mandate—Going Forward with Lessons from the Past (https://www.frost.com/ne7e), finds that as of January 2015, California accounted for 40 percent of ZEVs in the United States. The next set of ZEV requirements will take effect in 2017, through 2025. As a result, ZEV sale units that stood at close to 60,000 units in 2014 are expected to grow to 1.4 million units by 2025.
For complimentary access to more information on this research, please visit: http://bit.ly/1l88DHl
"The stringency of California's mandate will steadily go up in terms of the required proportions of ZEVs in fleets, changing the mix of cars on sale in the state," said Frost & Sullivan Intelligent Mobility Senior Research Analyst Sudeep Kaippalli. "Meanwhile, support and incentives from the government will follow at a slower but significant pace."
Reducing upfront purchase costs and expanding non-monetary incentives will widen the potential customer base for ZEVs. A statewide government parking policy providing parking benefits at state-owned properties and buildings is already encouraging ZEV sales. Access to transparent and informative purchase processes and high-occupancy vehicle lanes will turn consumer sentiment positive.
Although the uptake of ZEVs has increased since the ZEV action plan in 2013, much remains to be done particularly in the infrastructure domain. Stakeholders must set up connected corridors with an adequate number of fast-charging stations to boost sales.
"Hydrogen fueling infrastructure is another priority investment that will fast-track the migration to ZEVs," advised Kaippalli. "Constructing renewable energy charging spaces will also promote the use of ZEVs in California."
Strategic Analysis of California Zero Emission Vehicle Mandate—Going Forward with Lessons from the Past is a Market insight that is part of the Intelligent Mobility (http://ww2.frost.com/research/industry/automotive-transportation) Growth Partnership Service program. This Market Insight discusses the future of the California ZEV mandate. It details the standards, requirements, compliance options and phase-in roadmap of the mandate. The study offers strategic conclusions for stakeholders. The Insight also delves into the electric vehicle miles travelled (e-VMT) proposal supported by a compliance case study.
About Frost & Sullivan
Frost & Sullivan, the Growth Partnership Company, works in collaboration with clients to leverage visionary innovation that addresses the global challenges and related growth opportunities that will make or break today's market participants.
Our "Growth Partnership" supports clients by addressing these opportunities and incorporating two key elements driving visionary innovation: The Integrated Value Proposition and The Partnership Infrastructure.
* The Integrated Value Proposition provides support to our clients throughout all phases of their journey to visionary innovation including: research, analysis, strategy, vision, innovation and implementation.
* The Partnership Infrastructure is entirely unique as it constructs the foundation upon which visionary innovation becomes possible. This includes our 360 degree research, comprehensive industry coverage, career best practices as well as our global footprint of more than 40 offices.
For more than 50 years, we have been developing growth strategies for the global 1000, emerging businesses, the public sector and the investment community. Is your organization prepared for the next profound wave of industry convergence, disruptive technologies, increasing competitive intensity, Mega Trends, breakthrough best practices, changing customer dynamics and emerging economies?
Featured Product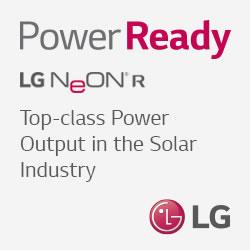 The NeON R module features "Back Contact" cell technology delivering an entirely black panel that is aesthetically pleasing and energy efficient. The cell's seamless, surface blends perfectly into nearly all rooftop designs while the module's electrodes are positioned on the rear of the cell. Using LG's N-type cell structure, the panels produce 365W of energy, up to 7.3kWp, compared to 5.8kWp of the p-type cell. The module's new design minimizes LID, thereby delivering a longer lifespan and increased energy output.