Public Ribbon-Cutting Ceremony Planned To Commemorate New Solar Installation, Generous Donation
Austin, Texas (November 24, 2015)

The Settlement Home for Children in Austin, Texas is now powered by solar thanks to Circular Energy and a generous donation from the Moody Foundation.
Completed in early November 2015, Circular Energy designed and installed a 72.32 kW solar energy system for The Settlement Home, a non-profit organization that provides care, support and resources for individuals with histories of severe trauma, abuse and neglect. The addition of this solar energy system serves the non-profits environmental initiatives while also helping them reduce energy costs.
The Settlement Homes new solar panel installation will produce more than 101,000 kilowatt-hours in its first year of operation, and will save the organization nearly $467,000 dollars over the next 25 years. It is designed to offset approximately 55% of annual energy costs, with Austin Energys Performance-Based Incentive increasing this figure to 90-95%.
"We are excited to get involved with such a worthwhile cause," said Richard Estrada, Vice President of Circular Energy. "In addition to financial savings, the solar energy system will help The Settlement Home for Children reduce their carbon emissions by 1,628 metric tons, or the equivalent to over 1.7 million pounds of coal burned," added Estrada.
The solar installation was made possible by a generous donation from the Moody Foundation. "For more than 70 years, the Moody Foundation has funded projects and programs that better communities in our great state of Texas. We at The Settlement Home are so very fortunate and thankful to receive the support of the Moody Foundation on our new solar energy system," said Jacob Huereca, Operations Director at The Settlement Home for Children.
A ribbon-cutting ceremony has been planned for December 3rd to commemorate the kindness on behalf of the Moody Foundation which made this project possible. The event will take place at The Settlement Home for Children, 1600 Payton Gin Rd, Austin, TX 78758 at 2 PM.
For more information about Circular Energys solar installation for The Settlement Home for Children in Austin, please visit http://www.circularenergy.com/project/the-settlement-home-for-children/.
About Circular Energy
Circular Energy is changing the way business owners buy electricity. With headquarters in Austin, Texas, Circular Energy brings over 100 years of energy expertise focused on renewable energy solutions, innovative electricity products and energy intelligence. Circular Energy is dedicated to helping American businesses with high-quality, affordable, resilient and sustainable energy solutions. Find out more by visiting www.CircularEnergy.com.
Featured Product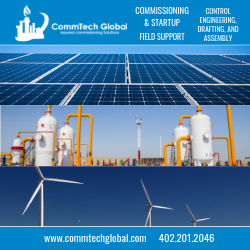 CommTech Global Solutions, LLC, provides professional and reliable commissioning services to customers in all realms of the energy industry. We blend our skills in engineering and technology with innovative business models, offering a complete range of services to assist you for a successful and in compliance operational startup. Consolidation of all our service domains gives our clients a comprehensive set of expertise and far-reaching experience on each project.