Green Charges intelligent energy storage product specifically targets peak demand reduction.
SANTA CLARA, Calif.---Green Charge Networks, the largest provider of commercial energy storage in the US today announced that its energy storage platform received Product of the Year from the Energy Manager Today Awards. Green Charges intelligent energy storage product specifically targets peak demand reduction. With a combination of lithium-ion battery storage and predictive software, Green Charge charges when energy is least expensive and feeds energy back into a facility during costly peak times. Green Charge flattens out the spikes in an energy bill and enables a business to pay the lowest possible price for energy at any time of day. This improves the power efficiency of the facility and the electric grid.

Scores were determined by a panel of independent judges from the following companies: Accenture, CapitalOne, City of Alexandria VA, COX Enterprises Inc., General Motors, MUFG Union Bank, IBM, Skidmore Owings & Merrill, US Department of Health & Human Services, USG Corporation, and Wellborn Cabinet Inc.
"Entries that were awarded Top Product of the Year are those that should be carefully considered by companies seeking to improve their own operations in a similar manner," says Paul Nastu, publisher of Energy Manager Todays parent company, Business Sector Media.
One judge said of the Green Charge Platform "For a business, being able to minimize the risk of high energy usage during peak periods where electric prices are the highest is critical. The Green Charge Energy Storage Platform helps mitigate that risk by providing stored energy to businesses during these periods of higher than average pricing."
Green Charge is hosting a free webcast for facility and energy managers on Wednesday, December 9th at 11:00 AM (PST) on the benefits energy storage.
About Energy Manager Today
Energy Manager Today is the leading daily trade publication keeping corporate executives - those responsible for procuring and managing energy - fully informed. The publication includes daily news stories written by in-house staff writers and editors, a daily email newsletter sent to an extensive opt-in email list, webinars, research reports, videos, podcasts, a white paper library, an awards program, and other content geared toward energy directors and managers. It is published by Business Sector Media. In its first year, the Energy Manager Today Awards recognize excellence in products/services and projects that provide companies with energy benefits and increase the bottom line. Scores were determined by a panel of independent experts actively working in the field of energy management.
About Green Charge Networks
Green Charge provides the easiest way to save energy costs for commercial and industrial businesses, municipalities and schools. Our award-winning solution delivers industry-leading savings, up to 50 percent in demand charges. Green Charge provides risk-free shared-savings energy storage and software that time-shifts power use, and optimizes electric vehicle charging, solar and energy efficiency measures. Founded in 2009 Green Charge is headquartered in Santa Clara, Calif., with offices in NYC and San Diego. For more information, visit www.GreenCharge.Net or follow us on Twitter @GreenChargeNet.
Featured Product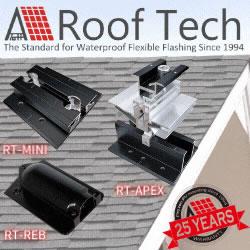 Now Roof Tech brings you the most innovative, watertight mounting systems ever developed for solar photovoltaic systems. Designed and manufactured exclusively for us by Japan's longtime leader in roofing technologies, Roof Tech products are 100% code-compliant and offer fast, simple installation and huge savings on shipping costs due to their compact, rail-less design. Learn more about our full line of versatile PV mounting solutions now available for residential installations. The next generation in rooftop solar mounting solutions."