Battery companies focused on relationships with original equipment manufacturers are expected to experience greatest success, report finds
BOULDER, Colo.--A new Leaderboard Report from Navigant Research examines the strategy and execution of eight leading lithium ion (Li-ion) battery manufacturers active in the light duty electric vehicle (EV) battery market. The report includes company profiles and rankings to provide industry participants with an objective assessment of these companies relative strengths and weaknesses in the global Li-ion vehicle electrification market.

As the market for Li-ion batteries for vehicle electrification continues to develop, several companies have emerged as leaders. To date, the most successful Li-ion battery manufacturers are large, financially stable companies, or subsidiaries of these types of companies, that provide Li-ion batteries to additional markets. Click to tweet: According to a new Leaderboard Report from Navigant Research, LG Chem, Panasonic, and Samsung SDI lead the Li-ion battery market for transportation in terms of strategy and execution.
"Most new-production strong hybrid electric vehicles (HEVs) and all plug-in vehicles (PEVs) are expected to be shipped with Li-ion batteries in the coming years," says William Tokash, senior research analyst with Navigant Research. "Its anticipated that well-funded, stable Li-ion battery companies—particularly those focused on relationships with original equipment manufacturers in the United States, China, and Western Europe—will be in the best position to succeed in the coming years."
According to the report, battery electric vehicles (BEVs) are expected to account for the majority of demand for Li-ion EV batteries. This is due to the larger battery packs typical of these vehicles, which are expected to have 72 percent of the market.
The report, Navigant Research Leaderboard Report: Lithium Ion Batteries for Transportation, examines the strategy and execution of eight leading Li-ion battery manufacturers that are active in the light duty EV battery market. These players are rated on 12 criteria: vision; go-to market strategy; partners; production strategy; technology; geographic reach; sales, marketing, and distribution; product performance; product quality and reliability; product portfolio; pricing; and staying power. Using Navigant Researchs proprietary Leaderboard methodology, vendors are profiled, rated, and ranked with the goal of providing industry participants with an objective assessment of these companies relative strengths and weaknesses in the global Li-ion vehicle electrification storage market. An Executive Summary of the report is available for free download on the Navigant Research website.
About Navigant Research
Navigant Research, the dedicated research arm of Navigant, provides market research and benchmarking services for rapidly changing and often highly regulated industries. In the energy sector, Navigant Research focuses on in-depth analysis and reporting about global clean technology markets. The teams research methodology combines supply-side industry analysis, end-user primary research and demand assessment, and deep examination of technology trends to provide a comprehensive view of the Energy Technologies, Utility Transformations, Transportation Efficiencies, and Buildings Innovations sectors. Additional information about Navigant Research can be found at www.navigantresearch.com.
About Navigant
Navigant Consulting, Inc. is an independent specialized, global professional services firm that combines deep industry knowledge with technical expertise to enable companies to defend, protect and create value. With a focus on industries and clients facing transformational change and significant regulatory and legal issues, the Firm serves clients primarily in the healthcare, energy and financial services sectors which represent highly complex market and regulatory environments. Professional service offerings include strategic, financial, operational, technology, risk management, compliance, investigative solutions, dispute resolutions services and business process management services. The Firm provides services to companies, legal counsel and governmental agencies. The business is organized in four reporting segments - Disputes, Investigations & Economics; Financial, Risk & Compliance; Healthcare; and Energy. More information about Navigant can be found at navigant.com.
Featured Product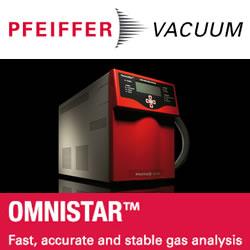 The Pfeiffer Vacuum OmniStar benchtop analysis system offers you a compact footprint, powerful software and Ethernet connectivity. It's the optimum solution for many real-time gas analysis applications. With the OmniStar, Pfeiffer Vacuum offers you a complete solution for gas analysis, in chemical processes, semiconductor industry, metallurgy, fermentation, catalysis, laser technology and environmental analysis. The turnkey OmniStar gas analysis system consists of heated, temperature-regulated gas inlet system, Quadrupole mass spectrometer, a dry diaphragm vacuum pump and HiPace turbopump. Unlike competing methods such as FTIR, OmniStar is suitable for qualitative and quantitative analysis of most gases.